Rhode Island Promise gives Mota new sense of purpose, clear path to career
June 25, 2018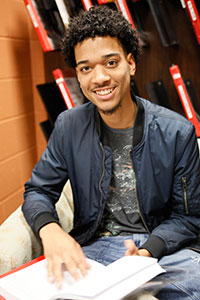 David Mota will never forget the time he applied for an internship at CVS during his senior year of high school.
During the interview process, the instructor asked Mota to describe himself.
"I told them I felt like I was an underdog," said the 19-year-old Pawtucket native. "They asked me why and I said, 'I always do more than people expect me to do.'"
Mota left the room certain he'd be chosen. A week later, he found out the company had gone in a different direction.
"It hurt because I felt good. I felt I was deserving over the other students," Mota said. "Because I didn't do well earlier in my high school career, they overlooked me."
Entering his second year at the Community College of Rhode Island as one of 1,577 inaugural Rhode Island Promise Scholars, Mota is destined to become the type of student who's impossible to ignore.
He has a 3.7 GPA, is enrolled in the radiology program and hopes to transfer to Rhode Island College a year from now to pursue his degree in sonography. With free tuition thanks to Rhode Island Promise, Mota is at ease knowing he can concentrate on his classes without the additional burden of student loans or other expenses.
Were it not for the scholarship, he would've had to alternate between work and school each semester to afford taking classes, potentially adding another two, maybe three, years to his timeline.
"Rhode Island Promise definitely makes me feel more comfortable as a student coming to school knowing that my tuition is paid for," Mota said. "It gives me the ability to be a student and not be so worried about, 'How am I going to take my classes next semester?' or, 'What if my car breaks down and I have to pay for that? But I need to get this book.' I don't need to choose between those. I can get both.
"I have friends who might've graduated a year before me and they came one semester and then the next semester they had to take off because they didn't have the money to pay for enough classes, or they take two classes here, one class there. Rhode Island Promise gives me the ability to actually finish college on time."
Mota grew up in a working-class family of Haitian and Cape Verdean descent, the middle child of three siblings His mother worked at Citizens Bank and his father moved furniture for a living. Both of his grandmothers worked in the medical field, one as a nurse and the other as a CNA, and one of his mother's close friends was a radiologist with a flexible schedule, all of which inspired Mota to pursue a similar career.
He was particularly close with the grandmother who was a CNA. When she died, Mota felt guilty because he didn't spend as much time with her as he could have.
"I was supposed to go over there and help her out around the house, but I wasn't there," said Mota, who was 13 at the time. "I just didn't know much then. I was young. I was really more about video games than trying to go over my grandmother's house."
Her death pushed Mota to attend William M. Davies Technical High School in Lincoln, where he enrolled in the health career program and worked as a 17-year-old CNA alongside professionals in their late 30s and early 40s. He could've stayed closer to home at Tolman, but wanted to show his family he was capable of more. He also wanted to be a better role model for his younger sister, whose birth, he said, forced him to "grow up a little quicker."
"I didn't want to just go to a regular high school and get a regular job and sit at a desk all day," Mota said. "I actually wanted to go out and do something to help people."
The CNA program was an eye-opener.
"Honestly, I was just too young," he said. "A lot of people would look down on me because I was 17, 18 years old. They would look at me and ask, 'Why are you here?'
"I talked to some doctors, nurses – people in other professions in the medical field – and tried to pick their brain, but a lot of the nurses were stressed out and I really didn't want to have all that, so I thought, 'Radiology is quick. You get an X-ray. New people every day. You don't really have the same patients.'"
Mota had always targeted CCRI, but wasn't sure how he would make it work financially. Plus, there is limited availability in the program, so he knew he had to beef up his workload as a senior at Davies.
"I wanted to challenge myself because in other years I really didn't challenge myself in classes," he said.
He learned about Rhode Island Promise from his grandfather and former homeroom teacher at Davies, both of whom urged him to apply. The scholarship has given Mota a new sense of purpose and a clear path to the finish line. He conquered his general education courses this year at the Flanagan Campus and is taking his first radiology classes this summer in additional to clinical work.
"I definitely reinvented my life by coming to CCRI," Mota said. "If you want to go higher in life and achieve more in life, CCRI is definitely the place to start. It's a place where you can meet people to network if you go into the business world. There are a lot of arts students here, a lot of everything here."
The first two semesters were definitely a challenge, but Mota didn't need to look far for motivation when times were tough. His older brother is incarcerated and his sister is at the age where she is easily influenced. Achieving his long-term goal of working in the radiology field would be a way to thank his mother for all of her hard work, not to mention all the times she had pick him up from school because he was "doing something stupid," and prove you can make it despite your background or circumstances in life.
"You look at me and you don't think, 'He goes to school. He really wants to get an education,' because of how I grew up, how I dress, the way I have my hair cut – simple things like that," Mota said. "But I've definitely grown a lot. If you told me two years ago I'd be here, I really wouldn't expect it. It really feels good to be chosen to do something."
Mota is well on his way to being the one everyone else looks at instead of the one constantly overlooked.
"I definitely don't want to be the underdog anymore," he said. "I want to be the No. 1 seed. One day, hopefully."
blog comments powered by