CCRI Players present Rhode Island premiere of musical 'Zanna, Don't!'
Feb. 22, 2018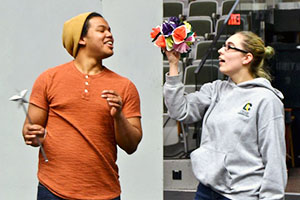 The Community College of Rhode Island Players will present the first Rhode Island production of the musical fairy tale "Zanna, Don't!" at the Knight Campus in Warwick next month.
When it opened off Broadway in 2003, one critic called it "a show with an energy so pure and a heart so big that you can't help but be moved," while the New York Times described it as "smart, touching, and humane."
"Zanna, Don't!" takes place in and around Heartsville High, located in a small town in an upside-down America where gay is the norm and straight people are regarded as outcasts. The big man on campus is the chess champion, and the quarterback of the football team is made cool by being cast as the lead in the school musical. Zanna, a magical, musical fairy orchestrates many romantic relationships with the assistance of a gossipy bird named Cindy and a wave of his wand.
When students in the drama club write and stage an original musical called "Don't Ask, Don't Tell" about straight people in the military, controversy ensues – only to intensify when the show becomes the catalyst for a young man and woman to fall in love, leaving Zanna to sort out everyone's life ... including his own. These goings-on are accompanied by a varied, tuneful musical score.
Book, music and lyrics are by Tim Acito, who has written that the show began as personal wish fulfillment: a joking attempt to revisit his own 1970s adolescence. After devoting three years to developing the musical, he said, "I hope 'Zanna, Don't!' has grown beyond its personal origins into something more universal. It is for anyone who grew up feeling different, which as far as I can tell means just about everyone."
The CCRI Players' production of "Zanna, Don't!" is directed by Professor Bert Silverberg, with musical direction by Mark Colozzi and choreography by Denise Lachowski. Student designers are: Trey Hendley of Providence (costumes); Clark D'Agostino of Scituate (sound); Victoria Ezikovich of Providence (makeup); and Joana Carvalho of Cumberland (properties). Scenic design is by Associate Professor Luke Sutherland, with lighting design by Steve Williams. Members of the student cast are: Courtney Cassidy of Tiverton; Antonio DiPrete of Ashaway; Frank Gilleese of Voluntown, Connecticut; Erika Fay Greenwood of Fiskeville; Luis Manaya of Providence; Maddi Murray of Lincoln; Deryn Leigh Ordway of Warwick; Kyle Renee of Riverside; Nikki Trombetti of North Providence; and Leah R. Vachon of Cranston. Shoshana Adler of Cranston is the stage manager, assisted by Clarence Bernard Donath of Richmond. The technical director is Justin Carroll.
Shows are at 7:30 p.m. Thursday to Saturday, March 1 to 3, and 2 p.m. Saturday and Sunday, March 3 and 4, in the Bobby Hackett Theater. Tickets cost $12 general admission and $10 for students, senior citizens, and CCRI faculty and staff. For reservations, call 401-825-2219.
blog comments powered by

Disqus