CCRI professor's study: Breast cancer survivors want more than pinkwashing
Dec. 13, 2018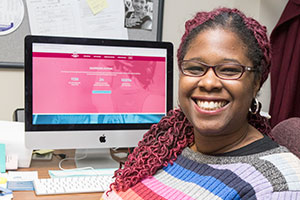 A research project seven years in the making for Assistant Professor Jana Knibb, who teaches sociology, and a colleague is beginning to gain traction in the medical and marketing fields by raising important questions about breast cancer-related advertising.
Knibb, a Florida native, conducted five focus groups with breast cancer survivors alongside her friend and former colleague, Kimberly Taylor, an associate professor of marketing and logistics at Florida International University College of Business, who is also a breast cancer survivor.
The purpose of the research project was to poll breast cancer survivors from all different walks of life – one group was composed of African-American women, while another was made up of members of a dragon boat racing team – to see what their impressions were of breast cancer research and awareness marketing, particularly during National Breast Cancer Awareness Month in October. They viewed various marketing materials from television commercials and newspaper ads to signs and advertising in doctor's offices.
The conclusion was almost unanimous: The majority of the women in the focus groups thought advertisers weren't painting a realistic picture of what breast cancer patients endure both during and after treatments, while some went as far as to question the motives of major companies during their October marketing campaigns.
The study was originally published on FIU Digital Commons, which is Florida International's online research journal, and since has been disseminated by Business Wire, a global network that shares press releases to various news media outlets, financial markets, bloggers and other sources. That latter was an unexpected, yet pleasant, surprise for Knibb, who never imagined the project would generate such publicity.
"We were really speaking to two groups of people, the medical community and to advertisers who we knew would read the journal that we sent this into," Knibb said. "Now that it's out in Business Wire, it's everywhere. I'm on LinkedIn and I have friends congratulating me. If this is something that could be part of a larger effort toward awareness, I'm all for it."
Knibb and Taylor previously worked on two separate research projects prior to launching this one nearly a decade ago. The first was a look at what role gender imagery played in determining which health organizations people chose to donate money to and the second was a study on women who perceived themselves as "green moms," or eco-friendly mothers who used products geared toward preserving the environment, such as cloth diapers.
The idea for this study on breast cancer marketing came about during Taylor's first year of remission. She had a hard time handling Breast Cancer Awareness Month, from the pink ribbons and clever T-shirts to the aggressive marketing campaigns by well-known retail companies: Yoplait, for example, with its pink lid initiative, or KitchenAid with its pink "Cook for the Cure" products.
"An ad that she saw was really tough for her on a personal level. She couldn't say, 'That was just an ad,'" Knibb recalled. "I said to her, 'If that makes you feel like that, how does that make other people feel?' So we decided to find out."
At the time, Knibb was a medical student at the University of Miami, so the research project with Taylor took up most of her free time outside of the classroom. After a health issue forced her to withdraw from Miami, she received her undergraduate degree from Florida State University followed by her master's from Florida Atlantic University in 2010. She spent the next four years working as an adjunct instructor at her alma mater before joining CCRI's Social Sciences department in 2015, all while continuing her research project with Taylor – even conducting interviews during her trips back to Florida for the holidays. She is enrolled in the University of Rhode Island-Rhode Island college education program to earn her doctorate and focus more on students with disabilities in higher education.
What she and Taylor discovered, she said, based on their research is that "people just turn things pink." The survivors who participated in the focus groups took issue with not only the intentions of companies such as KitchenAid – "They have a pink mixer," Knibb said, "What are they doing with that pink mixer? What's the end game?" – but specifically the imagery in breast cancer awareness advertising.
"One of their biggest complaints was that the women don't look like them," Knibb said. "You don't tend to see women in breast cancer advertising who look ill or who have lost their hair. It tends to be younger women, happy, smiling and it's kind of ironic, sort of like the supermodel type all dolled up."
As for the intentions of major advertisers and subsequent cause-related marketed, Knibb referenced a controversy with Yoplait in 1999 in which the company ran its "Save Lids to Save Lives" pink lid campaign. It promised to donate 50 cents for every lid mailed back to the company, but failed to disclose its maximum donation of $100,000. An investigation by the
Georgia attorney general's office found that 9.4 million lids were returned in a three-month span, which would have equaled a $4.7 million donation.
To avoid legal action, Yoplait's parent company, General Mills, donated an additional $63,000 to the Breast Cancer Research Foundation and eventually began disclosing its maximum donation on packaging before dropping the campaign altogether in 2016. That's just one company. There are countless others that participate in Breast Cancer Awareness Month, some offering vague details on how much of their proceeds go toward funding research and awareness or where the money is actually going.
"The women we interviewed interpret that the companies are using their condition, breast cancer, in order to raise publicity. They are seeking to sort of capitalize off of other people's suffering," Knibb said. "They're using sort of frivolous products to make money off of something, but we're OK with some of it because it raises awareness."
Awareness, Knibb said, can be just as important as money funneled toward research. The focus group featuring all African-American women raised concerns over the lack of awareness in their community and, in some cases, the lack of access to proper health care. They thought that they, too, were misrepresented or not represented at all in breast cancer awareness advertising.
Campaigns such as "Save the Ta-Tas," which is printed on T-shirts, hats, bumper stickers and even socks, drew a mixed reaction among the women participating in the research group, Knibb said. They often underlie how "society values women's body parts," but they can still serve a greater purpose by simply raising awareness.
"If it makes someone chuckle and say, 'Well, yeah, maybe I should go get checked out,' or, 'Maybe I should remind my friends they need to get checked out,' it lumps into that sort of, 'This is bearable,' idea," she said.
The results of Knibb and Taylor's project also will be published in Health Marketing Quarterly in 2019. The additional exposure is helpful, even if the audiences are limited to people within the business and medical fields. If some advertisers happen to see the results of their study, Knibb said, and perhaps consider the impact of their marketing campaigns, "That would be wonderful.
"Let's get more people that look like breast cancer survivors," she said. "I notice a lot of commercials for diabetes tend to feature older people, a little chubby. I've seen some with women who are a little chubby and it's like, 'OK, diabetes can certainly be brought on by being overweight,' so those people, to me, look more like real people – not models. I've never seen a size zero woman advertising a diabetes drug, so I think in breast cancer advertising we do need more people who look like the people they're targeting."
blog comments powered by

Disqus