CCRI Hall of Famer returns to campus to coach women's basketball
Dec. 14, 2018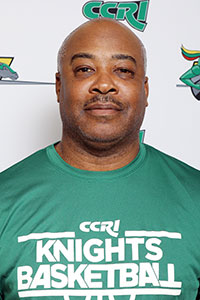 When his alma mater reached out to him to take over its women's basketball program in October, former Community College of Rhode Island All-American Doug Haynes found himself torn between staying at Bay View Academy, where had coached for nearly two decades, or pursuing the opportunity of a lifetime.
"There was some hesitation," Haynes said. "'Is this the right thing to do? Am I ready for this?'"
The West Warwick native reached out to close friend Tommy Garrick, a standout basketball player at the University of Rhode Island in the 1980s who eventually went on to coach the university's women's program.
"He said to me, 'You've been [at Bay View] for 18 years. What do you mean you're not ready?'" Haynes chuckled.
With a little push from his wife, who encouraged him to apply, the seven-time Rhode Island Division I Coach of the Year begins a new journey at the collegiate level as the head coach of the Lady Knights, replacing Brittany Brown, who left after five seasons to join the staff at Delaware.
Haynes is a natural fit. At CCRI, he starred in baseball and basketball from 1987 to 1989, earning NJCAA All-American honors in basketball as a sophomore and graduating as the school's third all-time leading scorer while leading the Knights to the 1989 NJCAA national tournament. On the diamond, Haynes earned All-New England honors twice and batted .403 over two seasons in addition to leading the Knights to a third-place finish in the 1988 NJCAA World Series.
CCRI inducted Haynes into its Hall of Fame in 1995 and named him an Outstanding Alumni award-winner a decade later.
Interim Athletic Director Kevin Salisbury said the school never formally recruited Haynes after Brown resigned, but said through the years the two had conversations from time to time about Haynes' future in coaching. When Haynes' name popped up on the list of applications, "we were fired up," Salisbury said.
"To be honest I didn't think, he would leave Bay View," Salisbury said. "When he applied, I was excited. We had three qualified candidates and his name certainly bubbled to the top very quickly. When I was checking references on him, I couldn't find anyone that said a bad word about this man as a person or a coach."
Leaving Bay View, Haynes said, was "tough." He built a dynasty at the all-girls Catholic school in Riverside with seven division championships, five trips to the finals and two state championships in 18 years, but CCRI was always on the radar, even as he watched other coaches run the program from a distance.
"I always kept my eye on it," he said, "and I've also pushed a couple of kids this way from Bay View to play."
Haynes' affinity for CCRI is similar to that of many students who find success within the confines of New England's largest community college. While some use a two-year school as a springboard to a four-year university, Haynes did the opposite. He originally attended URI on a football scholarship, but struggled academically while adjusting to life away from home.
"I thought it was a good idea for me to leave and come here," he said. "I was only supposed to come for a semester or two semesters and go back."
Things changed once he arrived. His grades improved and he ended up staying the full two years and earning his associate degree while working the third shift as a security guard.
"When I came here, I had to live at home, I had to get a part-time job. I tell everybody I learned more here because I had to grow up," Haynes said. "At URI, it's different, because if you don't want to go to class, you just stay in your dorm. Here, they don't allow you to fail. They want you to succeed."
Upon graduating, Haynes followed in the footsteps of his older brother and earned a position working in juvenile corrections at the Rhode Island Training School in Cranston, where he's been employed for the last 26 years. His younger sister has worked in corrections at a women's prison for two decades.
Haynes also remained heavily involved in basketball, starting out as an assistant at West Warwick High School in 1989 and working as an assistant at Shea High School for several years before landing his first head-coaching position with the Times 2 Academy boys' program in 2000.
The job at Bay View essentially fell into his lap. He joined the girls' program as a volunteer assistant under the former athletic director at Times 2, who had jumped to Bay View. A year later, the coach quit, leaving Haynes in a difficult spot, but athletic director Cindy Neal offered him the job, citing Haynes' ability to relate to the players during his brief tenure as an assistant.
The rest is history; Haynes, in addition to winning two state titles and seven Coach of the Year awards in Rhode Island, was also named the National High School Federation Coach of the Year in 2014.
More importantly, Haynes developed a standard at Bay View based on respect and accountability, which he hopes to bring to CCRI.
"It's definitely overlooked," Haynes said. "A lot of people worry about winning more than that aspect of it. I try to keep it consistent. 'This is what we do, this is how we're going to act and this is how we're going to respond.' It was just about trying to be consistent and making it fun for the kids and fun for the people who were coming to watch. I think that's what drew a lot of kids to Bay View to play basketball. They always said they came to play for me.
"You want to be able to, when you got out to play, have someone say, 'Your kids are very good. They're very respectable.' That's what I'm trying to bring here."
Working with youth in detention at the R.I. Training School is inherently different from coaching college basketball players, but the approach Haynes uses at both jobs is surprisingly similar. There are parallels, most of which stem from the idea that every situation needs to be handled in a unique fashion.
"Where I work, you can't treat every kid the same way. You have to have some type of in between," he said. "They have different types of mental issues, family issues, so you try not to go in there full force and give them all the same things. Same rules, same disciplines, but the way you interact might be a little different.
"It's not as severe here, but you take that into coaching here because you've got a mixture of kids from different environments."
The first year on the job has been challenging. In addition to having an undersized roster of only eight players, Haynes has had to adjust to a new team unaware and unaccustomed to his style of coaching.
Sophomore co-captain Kelly Waleska of Pawtucket is already benefiting from Haynes' tutelage. As a freshman, she averaged 3.3 points per game, but has taken advantage of her increased playing time, doubling her scoring from the previous season.
"Confidence-wise, in order to shoot more and play my game and not anybody else's, he's helped me with that," Waleska said. "He has more patience. He takes the time to show us things and explain them."
New coaches are typically given a longer leash at the beginning to build a program. While understanding it may take a year or two, Haynes wants to "go right out of the gate." The process may not take as long as anticipated, especially with the Rhode Island Promise scholarship in effect. Haynes knows all the key players – both on and off the court – on the high school circuit better than anyone and now has the ability to sell prospective student-athletes on two years' worth of free tuition.
"I've been able to communicate with people and use that as a recruiting tool," Haynes said. "My thought process to the parents is that, hey, your child can come to school for two years without you paying. Instead of paying that four-year note, now you're looking at two years and maybe them possibly getting some money to play."
"This is right up his alley as far as getting kids to come to CCRI," Salisbury added. "He knows all the coaches and he's well-respected. High school coaches know that the kids who do come to CCRI are going to get more, and better, coaching at the next level."
Haynes is the ultimate CCRI success story. Everything has come full circle since he graduated 29 years ago. He retained two assistant coaches from Brown's tenure, Denise Scott and Victoria Wilkerson, while bringing in two additional assistants with ties to both CCRI and Bay View; Joel Tuoni played at CCRI and was a co-captain on the 1989 tournament team and Brittany Wilson was a three-time All-State selection under Haynes at Bay View.
With his résumé on and off the court, Haynes rarely gets nervous, but said he had butterflies before coaching his first home game this year. There's a certain pressure that comes with coaching at your alma mater, a certain level of expectation Haynes is desperate to meet in a short amount of time. The nerves are understandable; he now has the opportunity to give back to a school that has already given him so much.
"I'm settling in, things are getting better and I'm trying to get the kids to buy into what I want them to do," Haynes said. "It's been working."
blog comments powered by

Disqus