Promise Scholar brings her passion for theater to CCRI's stage
Aug. 24, 2018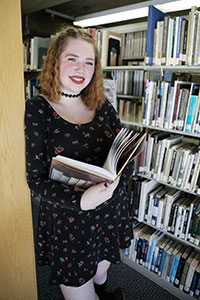 Erika Greenwood already had enrolled at the Community College of Rhode Island when Rhode Island Promise passed, but the scholarship has provided the 19-year-old Cranston native with something even money can't buy.
The self-described "queen of procrastination" went from an average student at Cranston High School West to a dean's list student in her first year at CCRI, thanks in large part to the scholarship's guidelines.
To continue receiving the scholarship over the course of two years, Rhode Island Promise Scholars must earn 30 credits per year while maintaining a 2.5 grade point average each semester. Knowing she'd lose the scholarship if her grades slipped gave Greenwood the motivation she needed to work harder on her studies. She recently completed two summer courses and will take six classes next fall as she works toward graduating next spring and transferring to Rhode Island College through the Joint Admissions Agreement (JAA) program to pursue bachelor's degrees in theater and secondary education.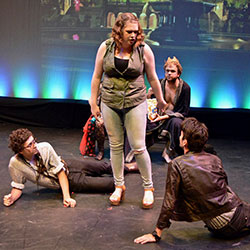 A budding performer who recently starred in CCRI's Summer Repertory productions of "The Tragedy of Macbeth" and "A Midsummer Night's Dream," Greenwood's ultimate goal is to become a high school theater teacher and perhaps develop statewide initiatives for students whose schools don't have theater programs.
Since third grade, Greenwood has performed in plays throughout New England, starting as a young child with a production of "Little Orphan Annie" at a small playhouse in Burrillville, where she and her family lived until they relocated to Cranston. Her grandfather helped her get involved after he found an ad in the newspaper promoting an audition for the play. She tried out, got the role and instantly fell in love with theater. Greenwood also taught herself to sing and eventually performed the national anthem at various sporting events before joining her elementary school choir.
"I realized at a young age that I don't have stage fright, so I can easily talk in front of people without getting nervous, and I could sing," she said. "I knew I had a little bit of talent when I was 6. Then I kind of harnessed it over the years."
In high school, Greenwood blossomed in Cranston West's theater program. In each of her four years, the school hosted the Rhode Island Drama Festival and also represented the state three times in the New England Drama Festival, a two-day event in which regional theater students perform and compete for awards.
Working alongside other high schools, Greenwood realized there was a discrepancy between various theater programs from either lack of funding or lack of interest from students and administrators. Some of the schools didn't even have a stage for the students to perform or, nor any idea how to work the equipment Cranston West uses.
"I kind of got emotional about it because they were so inspired by all the theater that was going on. It just opened my eyes," Greenwood said. "I feel bad for those schools. There are a lot of schools that don't have funding for it, which is sad because it's a big part of so many people's lives. I know it's a big part of my life. I don't know where I would be if I didn't have [theater]. It's taught me a lot about studying. You have to memorize things and I've kind of carried that onto studying. There are a lot of fundamental values to it and I want to give that opportunity to students."
Greenwood always dreamed of performing for a living, but understood the risks of pursuing a career in such a competitive, uncertain field. "For a long time [my father] was like, 'You can't just go to college for theater,'" she said. So she quickly shifted her focus toward teaching, inspired by what she had seen while directing various performances in high school. Changing her career trajectory allowed her to apply her passion to a more practical cause while also appeasing her parents, who had already come around to the idea that theater, in some shape or form, was going to be a part of their daughter's future.
"I'm not going to just move to California and try to make it big," Greenwood said. "Teaching was always something in the back of my mind."
After checking out a few four-year colleges after high school, including RIC and Salem State University, Greenwood ultimately decided CCRI was the more practical, affordable choice to jump-start her career in higher education.
The budget containing Rhode Island Promise hadn't passed yet, but she had saved up some money during high school to help defray the tuition costs. Three months after officially enrolling at CCRI – just as Greenwood was starting to think about how she was going to pay off her student loans – Gov. Gina Raimondo signed off on the state budget to officially launch the scholarship program.
"It was so cool," Greenwood said, "because, at first, you don't know if it's going to happen. You're thinking, 'OK, I have to set up payment plans,' and then all of a sudden, it's free."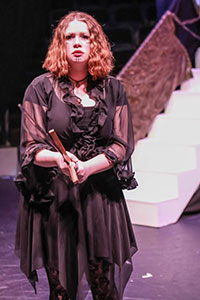 Though her schoolwork is her top priority, Greenwood still finds the time to remain heavily active in CCRI's theater program. She started out before she even took her first class, assisting behind the scenes with the CCRI Players' first Summer Repertory series in 2017 after representatives from the college visited her high school to recruit talent for the Performing Arts Department.
This spring, she performed in Rhode Island's first production of the popular Broadway musical "Zanna, Don't!" She was also featured in the ensemble cast in a production of "Isabella" at Providence's AS220 theater in March, produced by CCRI Associate Professor Ted Clement.
Following her summer rep performances, Greenwood's busy theater schedule continues with the musical, "American Idiot," inspired by Hall of Fame punk rock band Green Day, to kick off the fall semester in October.
Greenwood said she is now a much more focused student, as she balances a full college course load with numerous theater commitments in addition to her part-time job at the REI sporting goods store in Cranston. She has made a seamless transition from high school and is now well on her way to pursuing a career in a field that started out as a hobby, but has since turned into her passion.
"[CCRI is] such a welcoming environment. It's not what I thought it was going to be. I was told, 'You're just going to come in here, go to class and that's it,' but there are a lot of opportunities."
blog comments powered by

Disqus