Pop Culture Club fosters culture of critical thinking, inclusivity
April 30, 2018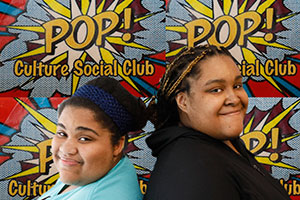 The new president of CCRI's Pop Culture Club describes it as an eclectic blend of "everything nerdy" – a club that tiptoes the fine line of culture acceptance, covering everything from Star Trek and anime to Harry Potter and "Exploding Kittens" (that's a card game, for those not in the know.)
The club encourages students from all walks of life to share their interests and learn what inspires others in a judgment-free zone aimed at connecting the dots between what they love and what they learn in the classroom.
It's an all-encompassing club, one that might not target a specific group of students, but helps fill in the cracks for those who haven't quite found the right fit.
"When we hear students say, 'I don't know where I belong,' we say, 'You belong with us,'" said club president Sabrina Melki, a first-year student originally from North Carolina. "We're just trying to keep everyone open-minded to everyone's differences."
The club began last spring as the brainchild of its inaugural president, Logan England, who approached psychology Associate Professor Rachel Rogers about the idea of a weekly meeting for students to apply certain elements of pop culture to what Rogers and other professors were teaching on campus.
Rogers, who often draws from outside influences in her curriculum, loved the idea and helped the students launch the club last fall.
"It was exactly the kind of thing I like about psychology, that you can find a connection from what you enjoy – your hobbies and interests – to what you're learning in the classroom," Rogers said. "I wanted to support that."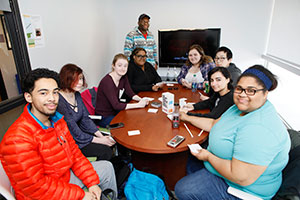 In addition to weekly meetings, students from the Pop Culture Club also organize fundraisers. Last semester, they hosted a toy drive to collect stuffed animals for Scares That Care, a charitable organization that fights childhood disease and illness. They also teamed with CCRI's Anime Club during the spring for a bake sale to raise money to research recessive dystrophic epidermolysis bullosa, a rare skin disease that claimed the life of England's daughter, Cassie, in 2014 at the age of 16.
They're also planning a quidditch tournament fundraiser this fall based on the fictional sport popularized in the Harry Potter series.
Beyond the charitable endeavors, the Pop Culture Club is fostering a culture of critical thinking, which Rogers hopes will keep students more engaged in the classroom. Melki and fellow member Leyshell Williams, the club's treasurer, find examples of art imitating life, both past and present.
At one recent meeting, they watched a 1968 episode of "Star Trek" that featured what is believed to be American television's first on-screen interracial kiss. They discussed the reaction during that era – according to actress Nichelle Nichols, who locked lips with William Shatner in the now infamous scene, television executives wanted to film an alternate version to avoid upsetting Southern affiliates – to how interracial relationships are perceived in pop culture today.
"Back then, that was huge," said Melki, who is African-American and Lebanese. "Nowadays, it's nothing."
They also discussed the depiction of deity in media by watching episodes of the popular television series "Supernatural" and "Lucifer," comparing how God and Lucifer are portrayed differently in each show.
Characters from the Marvel and DC Comics series, both in print and film, are popular talking points among club members, too, because, Melki said, some of the recent rebranding efforts are aimed toward a more modernized version of the average consumer.
Spider-Man, for example, is no longer depicted in the Marvel Universe by Peter Parker, whose character was killed off in 2011 and replaced by Afro-Latino teenager Miles Morales, created by writer Brian Michael Bendis with inspiration from former U.S. President Barack Obama and actor Danny Glover.
Morales' introduction received a mixed reception among readers and critics, prompting The Washington Post to publish an editorial titled, "Sorry, Peter Parker. The response to the black Spider-Man shows why we need one."
The character of Ms. Marvel, created in 1977, is now depicted by fictional Pakistan-American teenager Kamala Khan from Jersey City, who made her first appearance in the Marvel Universe in 2013. Twenty-five years ago, DC Comics introduced Static, a black superhero whose real-life identity is teenager Virgil Hawkins, named after the civil rights pioneer who fought to desegregate Florida schools after the University of Florida in Gainesville denied his application in 1949 because of his skin color. The character gains his superpowers after getting doused with experimental chemicals in a gang war.
The storylines, Melki said, tackle modern-day issues all genders and races face and help readers identify with the characters on a more personal level. The 2018 blockbuster film "Black Panther," based on the popular Marvel Comics character, depicts its lead antagonist, Erik Killmonger, as an outsider in the fictional African nation of Wakanda despite being African-American. It's a cultural trend both Melki and Williams can relate to; Williams is Indian and African-American.
"When you look at Killmonger, you see somebody who is biracial. He is half Wakandan and half African-American. He truly doesn't fit in with either one and, as biracial females, we agreed we never fit in," Melki said.
"I never fit in with my Lebanese side because I'm too black and she never fit in because she is too Indian and our black sides were like, 'You guys are too light.' Watching that show, we saw the tribalism within Wakanda and we saw the problems in America biracial people have as well. It was nice to see that being relayed to adults, teenagers and even some children. It's good to have that representation for children who are African-American because they have a superhero that looks like them.
"Kids can look at a comic book and go, 'Oh, my gosh! I look like him!' and that's important."
Melki and Williams both grew up in North Carolina, but never crossed paths until they met each other through the Pop Culture Club.
Melki, who was diagnosed with high-functioning autism as a youth, attended Mary E. Phillips High School, an alternative education school in Raleigh. Williams briefly attended Jaunita Sanchez in Providence. Both endured bullying for what they loved. Melki graduated but admits she was "scared" to attend college until she visited CCRI.
"You knew when you go somewhere and you don't fit in right? When I walked into CCRI, I felt a bit of warmth," Melki said. "No one here was judging me. They were here to help me, support me and get me to where I need to be."
Williams, 21, ultimately dropped out of Juanita Sanchez, but earned her GED® credential before enrolling at CCRI. Like Melki, she's embraced the college experience and has found a home away from home within the Pop Culture Club.
"I grew up where a lot of people don't understand the same things as me, so to find people who like the same things as me has been great," Williams said. "I really wasn't sure how I would like college. I definitely didn't like high school, so if I could find people that actually liked the same things as me and find out the school is really inclusive in that, it was important to me."
Joining the Pop Culture Club has helped both Melki and Williams thrive outside of their comfort zones without fear of being harassed or ridiculed. Their goal is to extend the same olive branch to those looking for a stimulating conversation or just a place to enjoy what they love among others willing to listen.
No matter your vice, the Pop Culture Club has an open seat for you to share your passion, find out what drives others and think outside the box. It's a melting pot of ideas, beliefs and backgrounds, bringing diverse students together to laugh, learn and ultimately help others along the way.
"We're definitely up for debates on all kinds of issues. We don't shame anybody. We're open," Williams said. "I definitely think it's a good thing, even if you only stop by for one meeting or you come every other meeting. This is a definitely a nice community to be a part of."
blog comments powered by

Disqus