CCRI Players present student-directed 10-minute plays
April 11, 2018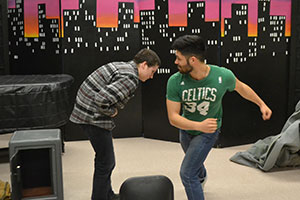 The CCRI Players will present "TESTED" – a program of six student-directed 10-minute plays in which characters are tested by life's circumstances ranging from how handling the pressures of marital bliss to surviving torture as a political prisoner – this month at the Liston Campus in Providence.
The plays were selected from the 2017 Boston Playwrights' Theatre's Boston Theater Marathon, and student directors must meet various criteria regarding academic performance and active involvement in previous CCRI Players' productions.
This year, Clarence Donath of Richmond will direct "Train Coming" by Chris Flaherty, "The Heist" by Matt Greene and "It's a Test" by Terri Fisher, and Katie Russell of Newport will direct "Broken" by James McLindon, "The Last of the McLaughlins" by Bill Pendergast and "Speed Date" by David Susman.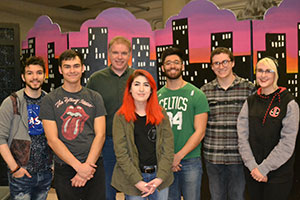 The cast consists of Charee Baez, Julia Egan and Isabella Lescatbeau-Field of Cranston; Steven Larivee of Johnston; Jon-Patrick Scott of Killingly, Connecticut; Ernest "Everett" Trafford III of North Kingstown; Mary Rathier of North Providence; Indhira Paulino of Providence; Tonie Lopez of Richmond; Clark D'Agostino of Scituate; Francis Gilleese of Sterling, Connecticut; and Courtney Cassidy of Tiverton.
The production team includes costume design by Erin Archer of Providence; light design by Haley Ahlborg of North Kingstown; and sound design by Dan Garcia of Warwick. Shoshana Adler of Cranston is properties master. Stage managers are Kyle Newport of Riverside and Amber Lee Pouliot of Warwick. Production mentor and scenic design is by Associate Professor Luke Sutherland.
Shows are at 7:30 p.m. on Thursday to Saturday, April 19 to 21, and at 2 p.m. on Saturday and Sunday, April 21 and 22. General admission costs $12, or $10 for CCRI students, faculty and staff. Call 825-2219 for reservations.
blog comments powered by

Disqus