CCRI Opera Workshop presents Holocaust remembrance performance of 'Brundibar'
April 11, 2018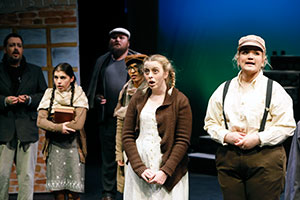 The Community College of Rhode Island Opera Workshop will welcome two Holocaust survivors following its performances of "Brundibár," a fully staged opera with orchestral ensemble performed in English, and "I Never Saw Another Butterfly," song cycle for voice and alto saxophone.
Alice Eichenbaum will speak after the performance on Friday, April 13. She survived the war in Bulgaria, and her late husband was in Auschwitz. She will relate both stories and talk about her children growing up with two Holocaust survivors.
Jorge Gardos will speak after the performance on Saturday, April 14. A professional violinist who was in a ghetto in Hungary, he will address the importance of music to survival.
"Brundibár" was composed in 1938 by Hans Krása, with lyrics by Adolf Hoffmeister, as an entry for a children's opera competition. It received its premiere in German-occupied Prague and had one additional performance in the Hagibor building before the mass transports of Bohemian and Moravian Jews to the Terezín ghetto began in 1942.
In July 1943, the score of "Brundibár" was smuggled into camp, where it was reorchestrated by Krása for the various instrumentalists who were available to play at that time. The premiere of the Terezín version took place on Sept. 23, 1943, in the hall of the Magdeburg barracks. The Nazis arranged for a staging for a propaganda film and it was performed for an inspection of Terezin by the Red Cross in September of 1944. Two weeks after this performance, artists in this ghetto were transported out to Auschwitz and other destinations east.
The performance begins at 7 both nights in the Bobby Hackett Theater at the Knight Campus, 400 East Ave., Warwick. Rachel Hanauer is director and Gayane Darakyan accompanies on piano.
The cost is $12 for general admission or $7 for student, faculty, staff and senior citizens.
blog comments powered by

Disqus