Running Start student gets jump on college before heading to Music City
April 27, 2018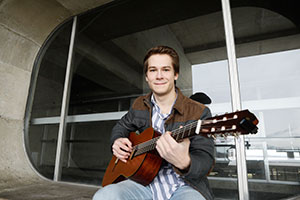 Since the age of 7, when he first begged his parents to buy him a guitar for Christmas, Griffin Keeffe felt an undeniable connection to music, inspired by the raw emotion and pageantry of our culture's most polarizing art form.
With a dream to become his generation's next great singer-songwriter, the 18-year-old North Kingstown native and CCRI Running Start student continues his journey next fall at Belmont University in Nashville, a renowned breeding ground for up-and-coming musicians, both past and present.
Sitting in the same classrooms where Brad Paisley once studied or roaming the hallways once shared by Trisha Yearwood and Lee Ann Womack, Keeffe hopes to follow in the footsteps of the many Grammy-winning artists who used Belmont as their platform to stardom.
With more than 8,000 students enrolled in Nashville's most acclaimed private liberal arts university, Belmont attracts the elite among music industry hopefuls, which merely motivates Keeffe to rise to the top of a crowded field and continue chasing the pot of gold that ultimately eludes so many in this profession.
"Something I've really learned over the past year and a half is I'm at my happiest and at my best playing music when I'm playing with people who are better than me," said Keeffe, who will major in songwriting at Belmont. "I really enjoy playing with people I have to work to keep up with."
Keeffe is moving to Nashville in August, two months after he graduates from North Kingstown High School and more than three months after his final class at CCRI. Keeffe could've finished out his senior year at North Kingstown and still enrolled in Belmont in the fall, but decided to participate in the Running Start program to get a leg up on the competition in Nashville.
Keeffe is taking three music-oriented courses at the Knight Campus, including Audio Recording and Music Theory, in addition to working on his debut album for his senior project at North Kingstown. He'll officially unveil his new music this summer at his album release party at The Pump House in Wakefield.
Leaving behind friends, family and former bandmates won't be easy, but Keeffe is confident moving to Nashville and becoming engorged in the history and culture is what's best for his future, similar to an up-and-coming actor heading to Hollywood to glean from others in the film industry.
"Music is much more of an elective program here than a career choice," Keeffe said. "When I found out [Belmont] had that major, I was hooked."
Keeffe never thought he could pursue a career in music until the ninth grade. He took guitar lessons as a child, but became heavily involved in soccer and track in middle school until doctors discovered he had the heart condition Wolff-Parkinson-White syndrome, which prohibited him from playing any additional sports.
He wore a heart monitor for nearly two years to keep track of his palpitations and eventually had surgery after eighth grade to avoid further complications. But by the time he healed, he had already jumped back into music and had little interest in sports.
Keeffe instead spent his first three years of high school studying the folk genre, composing his own music and forming a band with several classmates. Last year, he took an interest in classical music and began studying its history along with its most influential composers. He also started writing his own poetry while absorbing historical literature, all of which he considers key elements to becoming a successful songwriter.
He draws inspiration from artists past and present, from the legendary Bob Dylan, No. 1 on Rolling Stone magazine's 100 Greatest Songwriters of All-Time list, to current recording artist Gregory Alan Isakov, a contemporary folk singer-songwriter from South Africa who mixes elements of indie rock into his music.
More importantly, Keeffe is backed by the unwavering support of his family, including both parents and his two siblings, one of whom is an actor who worked as an extra in the 2015 film "Irrational Man," starring Joaquin Phoenix and Emma Stone. His father also pursued acting and had a few minor roles in addition to a brief career as a model.
"There was a time when he was on a couple of billboards in Poland," Keeffe said of his father. "Everyone says, 'Oh, that's not realistic,' but he went for it."
Now Keeffe is doing the same. Though he's a singer-songwriter by trade, Keeffe is more comfortable with writing and instrumentation.
"Singing is also important to me," Keeffe said, "but I think that when it comes to my voice, I have one of those voices you wouldn't necessarily hear on 'American Idol.' It's not a trained voice."
Today's industry, he says, is littered with artists whose lyrical content and composition more than make up for their inability to match some of music's most powerful voices. He cites Chance the Rapper, a three-time Grammy winner in 2017 who produces, sings and raps, but is widely acclaimed for the message behind his music more so than his voice.
There is also the possibility of pursuing a less glamorous, yet still lucrative, career as a songwriter, known commonly as ghostwriting. Australian singer-songwriter Sia penned hits for Rihanna, Beyoncé and Britney Spears before reaching the Billboard Hot 100 for the first time as a solo artist in 2014. Four-time Grammy winner Ed Sheeran wrote songs for British pop band One Direction while launching his own solo career. Keeffe said that earned Sheeran "a stupid amount of money."
"If I ended up in a career like that where I was writing for people, I can still spend all the rest of my time writing my own music," Keeffe said. "Then when you get connected like that and you're writing for people, you also have all these outlets and all these places to record for free.
"I'd be OK with both. I really think either way I'd be in love with what I do."
With the possibility of turning his passion into profit, Keeffe will continue to pursue the unpredictability of the music business over the practicality of a safer career. From the Great Hall to the great unknown, all roads lead to the Music City, which may procure America's next singer-songwriter icon.
blog comments powered by

Disqus