About the Campus Police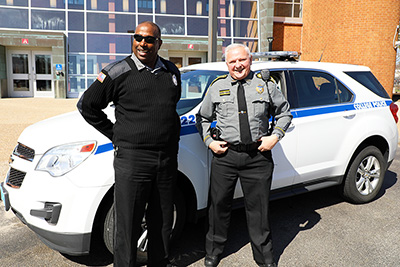 Our department consists of two captains, four lieutenants, twenty-three sworn police officers and one college patrol person. We are a sworn police department trained by the Rhode Island Municipal Police Training Academy or its equivalent in other jurisdictions. Our officers have full arrest powers to enforce the laws of the State of Rhode Island. While officers do not carry firearms, they are equipped with non- lethal tools. Our jurisdiction is primarily within the geographical boundaries of each campus and the surrounding public streets and sidewalks adjacent the campuses. For more information, we can be reached by phone at:
Warwick (Knight) 401-825-2109; The office is located on the ground floor rear of the Mega Structure.
Lincoln (Flanagan) 401-333-7035; The office is located on the lower level 3.
Providence (Liston) 401-455-6050; The office is located at the main entrance 1st floor.
Newport County 401-851-1620; There is a kiosk at the main entrance and the office is located on the lower level farthest from the elevator.