For Graduated Students
The MBLEx (Massage & Bodywork Licensing Examination) is governed by the FSMTB (Federation of State Massage Therapy Boards). It is designed to provide a standard examination for students of massage for an entry-level professional scope of practice in gaining licensure. States Regulating Massage: https://www.fsmtb.org/consumer-information/regulated-states/
After successfully completing the student massage clinic, students will receive a Transcript Consent Form once filled out and submitted to Rehabs administrative assistant will allow the Rehabilitative Health Department to forward your CCRI transcript to MBLEx assuming there is no hold on your account. This will qualify you to schedule to take the exam. Use the link below to familiarize yourself with the MBLEx process. https://www.fsmtb.org/mblex/application-process/
To Sit for the MBLEX exam, you must be a graduate of an Assigned School: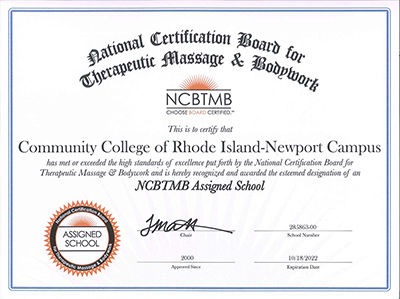 Please check with the state boards responsible for licensing massage therapists where you want to practice. In the state of Rhode Island, it is the RI Department of Health who requires the following
RI Board of Massage Therapist Checklist
Double check all documents you submit are valid & not expired. There is guidance on the application process as well answers to any of your frequently asked questions found here at the link below
http://sos.ri.gov/documents/archives/regdocs/released/pdf/DOH/7016.pdf
Title 23- Health and Safety
CHAPTER 23-20.8
Licensing of Massage Therapists
SECTION 23-20.8-9 Persons exempt.
(4) Graduates from an approved educational program, may practice massage therapy only under the supervision of one, assigned, onsite licensed massage therapist. Graduates have ninety (90) days from the date on the application fee receipt, to meet licensure requirements of this state in accordance with regulations prescribed by the board.
http://webserver.rilin.state.ri.us/Statutes/TITLE23/23-20.8/23-20.8-9.HTM
Some state licensing boards do not require MBLEx such as Massachusetts, Vermont, Minnesota, Wyoming, Kansas, Alaska, & Hawaii and instead may request your transcripts be converted into total massage clocked hours.
The CCRI Transcript that you get once you graduate details your credits earned- not the hours you spent in class or doing fieldwork. Therefore, if you are applying for licensing in a state requiring hourly transcript – you need to fill out an Hourly Transcript Request Form. (don't forget to include the address of the state licensing board you want it directly mailed to.) When you have fully completed this form and signed it, submit it to the Rehab Health Department where then the program director will prepare it into total calculated hours to be officially stamped and mailed out by enrollment services.
*To avoid complications be aware and verify the name you registered with the school is the same on all your documents. Also double check your transcripts are accurate before and complete before submitting them to the licensing's board.*
Previous Pinning Ceremonies Photo Galleries
Class Video
Class Video
CCRI Therapeutic Massage Class of 2017 Graduation guest speaker Amelia Garris