CCRI, Delta Dental team up to address dental hygienist shortage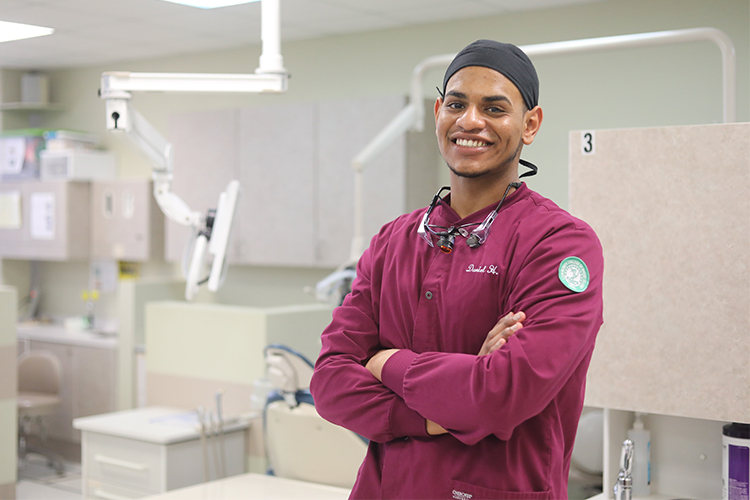 CCRI Dental Hygiene student Daniel Hernandez was one of many who benefitted from the renovated clinic at the Lincoln Campus.
Amy Wimmer Schwarb, Strada Education Network
Growing up in Providence, RI, Daniel Hernandez was his family's helper: He translated for his immigrant parents, filling out paperwork with them and navigating their appointments.
Though his own language barrier led him to feel uncomfortable in a classroom, he dreamed of pursuing a career in health care because he wanted to expand his desire to help others.
"I had a notion of wanting to just help people and have an impact on people's lives," said Hernandez, who went on to earn his associate degree in dental hygiene from the Community College of Rhode Island. "So I feel like dental hygiene was a very good job, a career. In the smallest ways, I can just help somebody."
The community college learning lab and dental clinic in which Hernandez trained is now a newly refurbished space where dental hygiene students refine their technique on mannequins outfitted with realistic incisors, molars, and cuspids. The clinic was remodeled through a partnership with Delta Dental of Rhode Island and supported by a $400,000 grant from Strada Education Foundation.
Through the partnership, Delta Dental provides scholarship support to 10 dental hygiene students each year who commit to working in Rhode Island for at least one year after graduation, and the students train in a state-of-the-art facility. The community benefits, too, through free dental cleanings the students provide to 1,000 Rhode Islanders each year.
"What I found is just a really strong bond between the community college and Delta Dental of Rhode Island in a shared goal of making sure that there's this pipeline of highly trained dental hygienists entering the workforce here in Rhode Island," said Michelle Muscatello, vice president of communications and external affairs at Delta Dental of Rhode Island, part of a network of dental insurance companies with members operating in all 50 U.S. states. "So we met with them, identified the need from the college and from the workforce, and then really tailored our partnership to meet that need."
The partnership originated in 2021, when oral hygiene professor Julie Galleshaw and Delta Dental of Rhode Island Senior Vice President and Chief Operating Officer Thomas Chase met at a dental conference. Galleshaw shared that the college's dental training lab hadn't been updated since 2003, and Chase explained the acute impact of an ongoing dental hygienist shortage across the country: According to a June 2022 American Dental Association poll, nearly 40 percent of dentists nationwide are trying to hire dental hygienists, and 95 percent of those say the recruitment is extremely or very difficult.
The partnership led CCRI to be among 11 community colleges that qualified for a Strada Employer and Community College Partnership Challenge grant.
Joseph Perroni, president and CEO of Delta Dental of Rhode Island, calls the company's relationship with CCRI "outstanding" and "just a breath of fresh air." The key, he notes, was settling on a plan that benefits both the institution and the industry. "I think this is a model that could take off nationally," Perroni said.
The partnership created space for a 25 percent increase in the number of dental hygiene students at CCRI. "We're very grateful to work with our partners in the workforce area and develop curriculum programming that they need as they expand and improve their workforce pipeline," said Rosemary Costigan, CCRI's Interim President. "We're there to serve and to help them reach those goals."
Beyond the ample job opportunities, many dental hygienists are drawn to the field because it puts them on the front lines of a personalized health care experience.
"I've always said, 'If I can make a difference in one person's life, I've made a difference in thousands,'" said Galleshaw, the oral health professor at CCRI. "When I treat a patient that exponentially can help other people in their family, I can make their lives better. When I teach my students, I've not only created one hygienist; that's one hygienist's hands that I've helped to form."
Hernandez's hands are among the ones Galleshaw shaped. At his graduation, the man who grew up feeling he didn't belong in a classroom earned the oral health care department's Golden Scaler Award, presented to the dental hygiene student who demonstrates the best clinical skills.
Share on Social Media