CCRI earns designation as a National Center of Academic Excellence in Cyber Defense
CCRI earns designation as a National Center of Academic Excellence in Cyber Defense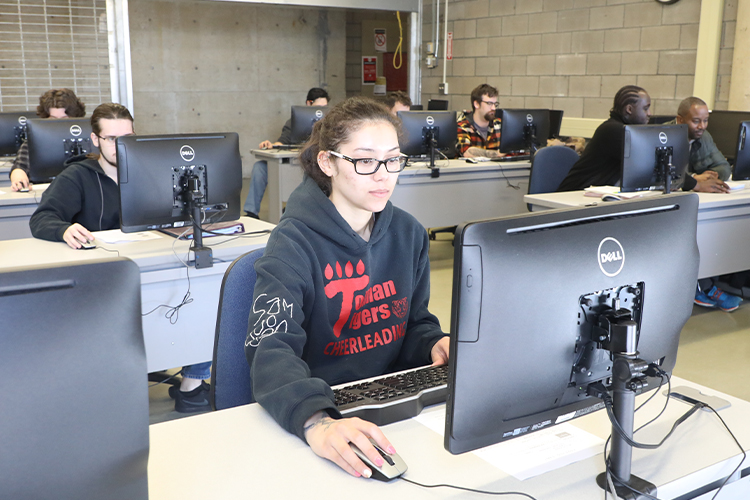 10/25/2023
The Community College of Rhode Island has been designated as a National Center of Academic Excellence in Cyber Defense (CAE-CD) through academic year 2028, completing the second step of a two-step accreditation process by the National Security Agency (NSA) that began in March.
The CAE-CD designation is awarded to regionally-accredited academic institutions offering cybersecurity degrees and/or certificates at the associate, bachelor's, and graduate levels. CAE-CD designation reflects CCRI's ability to meet the increasing demands of contributing to the protection of the National Information Infrastructure and addressing the critical shortage of professionals with cybersecurity skills by promoting higher education and research in addition to providing the workforce with a pipeline of qualified cybersecurity professionals.
According to the NSA, "a highly-skilled cybersecurity workforce is a strategic national security advantage" with education as the "key to promoting these ideals."
This marks the second time CCRI's Cybersecurity degree program has earned CAE-CD designation with the first instance occurring in 2018. The college's Cybersecurity program provides students with a strong foundation in the principles and methods of cybersecurity as well as the fundamental knowledge and tools for applying security measures across a variety of network architectures and settings. In addition to serving as a strong foundation for pursuing a bachelor's degree in cybersecurity, CCRI's associate degree program provides the educational background and hands-on training necessary to prepare students for entry into the cybersecurity sector.
"We are very happy to receive this designation once again. It underscores the commitment to the cybersecurity program by the college," said CCRI Cybersecurity Program Director Michael Kelly. "Achieving this designation would not have been possible without contributions from the college community and I really appreciate all their help and support."
CCRI's internal and external outreach was also a driving force in its CAE-CD designation; two years ago, the college launched its now annual Cybersecurity Night, which features guests from the cyber defense community and other area colleges in addition to networking opportunities for faculty and students among industry professionals. In June, Kelly received a 2023 Center of Academic Excellence Community of Practice in Cyber Defense (CAE Cop-CD) Community Service Recognition Award at this year's CAE in Cybersecurity Symposium for his outstanding contributions to the cybersecurity community.
CAE-CD designation is one of three designations offered by the NSA to academic institutions, which also includes Cyber Research (CAE-R) and Cyber Operations (CAE-CO). Founded in 1952, the NSA is a national-level intelligence agency of the United States Department of Defense, under the authority of the Director of National Intelligence.
Share on Social Media