Getting to Know: Ashley Casiano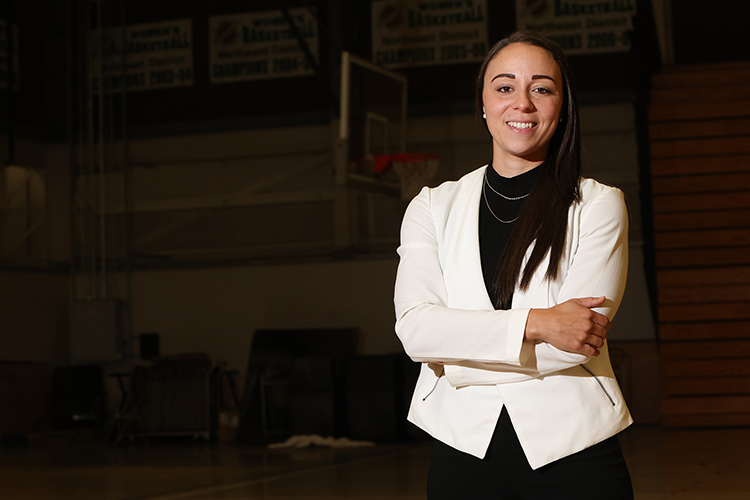 A lifelong athlete who has excelled collegiately and internationally, Ashley Casiano has joined the CCRI community as the college's inaugural Director of Athletics, Recreation and Wellness.
In this new position, Ashley is responsible for providing leadership and support for the development of a new-look Athletics, Recreation, and Wellness program, which also includes overseeing CCRI's seven varsity National Junior College Athletic Association (NJCAA) programs, three of which won Division III Region XXI championships in 2022–23.
Casiano, a native of South Windsor, CT, was a four-year letterwinner in lacrosse and basketball at South Windsor High before continuing her lacrosse career at Marist College, where she was a two-time All- MAAC goaltender and helped lead the Red Foxes to the NCAA Tournament in 2010. Three years later, Ashley finished ninth in the country in saves (149) and 13th in save percentage (.461) and eventually went on play for the Puerto Rico Women's Senior Pan-American Lacrosse Associate (PALA) Team.
In addition to working as an assistant lacrosse coach at Yale University and coaching for the Women's U20 Puerto Rico National Lacrosse Team, Ashley most recently served as Facility Manager for Jones Lang Lasalle (JLL), a global residential and commercial real estate investment company, before joining CCRI earlier this month. She boasts a Bachelor of Arts in Communications from Marist and a Master of Science in Recreation and Sport Administration from Western Kentucky University as she continues her "dream" of working in collegiate athletics.
What are your goals as the Director of Athletics, Recreation, and Wellness at CCRI?
"My goal is to foster a culture of respect, communication, inclusion and competitiveness, while nurturing wellness and fitness programs that will support life-long health practices. I am passionate about optimizing our facility operations and delivering the best in class customer service to our community. Our department will work towards inspiring, educating and developing student athletes through a culture of excellence, a high-caliber education and a strong sense of community. For me, it will come down making decisions that are in the best interest of the institution, not necessarily the Department of Athletics or one particular program."
In your previous line of work at JLL, what were your responsibilities?
"My responsibilities at JLL included managing all custodial services for two business parks, organizing corporate events and services, coordinating scheduling for inspections and preventative maintenance, preparing annual reports and allocating funds to ensure quality service, manage budget for projects and operations, prepare detailed scopes of work and quality control initiatives. I also ensured contract deliverables were met, analyzed trends and utilize data to anticipate and proactively address issues in the client environment and developed and maintained positive client relationships."
You've talked about life lessons being taught through sport. Having played and coached at this level, what are some of the most important lessons?
"Despite the obvious health benefits of being active, sports teach commitment, discipline, perseverance, and how to overcome adversity. Commitment is something you choose to do. Athletes have to prioritize their time in order to balance their everyday life. It's rare that an athlete can experience success without proving their commitment to their sport or activity. The same is true in life. You won't excel in your job if you do the bare minimum. You can be good or you can be great. The difference is how committed and disciplined you are to learning your field.
"Sports provide a platform for teaching perseverance. Athletes have to learn to push themselves in order to successfully compete. It encourages students to keep working despite the difficulty. If you give up, you'll never know what you could have accomplished. Finally, an athlete's toughest challenge are the many faces of adversity, tough losses, parental expectations, missed opportunities, personal matters and mental obstacles. Athletes have to constantly reevaluate how to overcome these curve balls. They have to react calm to challenges and practice adaptability."
What do you enjoy doing in your spare time?
"My spare time is devoted to my family. With a little one at home, I feel it's important to experience the world with him, through his eyes, whether that be at new playgrounds, the lake or reading books, making memories with my family is very important to me."
Share on Social Media