Class of '23 graduate named one of three Gamm Theater fellows for 2023-24
Class of '23 graduate named one of three Gamm Theater fellows for 2023-24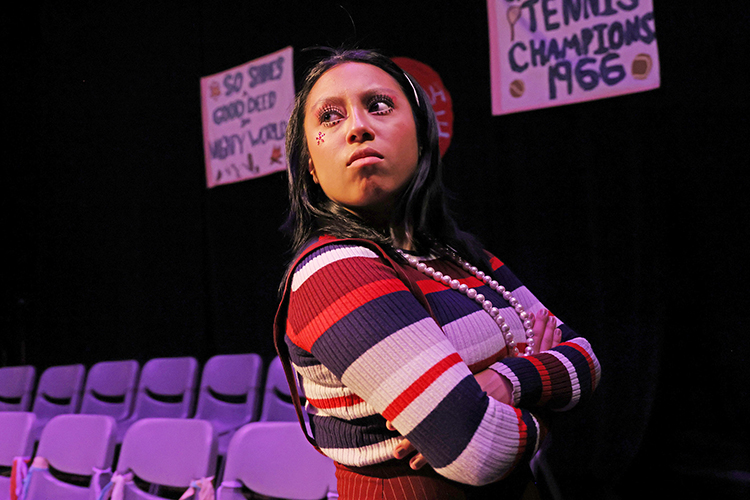 09/15/2023
After fueling her passion for theater at the Community College of Rhode Island, Class of 2023 graduate Mireya Hoffens will continue to pursue her dream this year as one of three emerging artists to join the 2023–24 Sandra Feinstein-Gamm Theater's Gamm Fellowship Program.
Created in 2021 to provide on-the-job training and educational opportunities for artists of color, the Gamm Fellowship is a paid, 10-month program in which fellows work alongside theater professionals engage in all areas of creative, administrative, and educational theater-making. Each fellow is also paired with an advanced career mentor, who will provide guidance on how to succeed in the theater industry.
The fellowship is in its third cohort and this year marks the third time a CCRI graduate has earned a spot in the program; Class of 2022 graduate Ednilson Tavares participated in the fellowship during the 2022–23 season and Dan Garcia from the Class of 2021 was a fellow in 2021–22.
"I'm excited to have received the opportunity to be a Gamm Fellow," Hoffens said. "I'm looking forward to working with and learning from professional artists, including some past fellows. I also hope to gain a lot of guidance from my mentor to further my acting career."
Hoffens, a 21-year-old Boston, MA, native and Providence, RI, resident, originally pursued Culinary Arts at Northeast Metropolitan Regional Vocational High School in Wakefield, MA, with a dream of becoming a baker. Theater had always been on the backburner ­– Hoffens helped launched and participated in a drama club at her high school – but when Hoffens realized Culinary Arts wasn't for her, she switched gears and enrolled at Wells College, a liberal arts college in Aurora, NY.
Hoffens left Wells after one year with her academic future uncertain. When her family moved to Rhode Island – she had an older sister attending Johnson & Wales University – she enrolled at CCRI in 2021 to continue studying theater. After attending CCRI's theater production of I and You, she fell in love with the concept of performance art and joined the CCRI Players, the college's student-run theater group.
In two years with the Players, Hoffens starred in several plays, including Antony and Cleopatra, Love's Labour's Lost, and Clown Bar, and was also twice nominated for a Region 1 Kennedy Center American College Theater Festival (KCACTF) Irene Ryan Acting Scholarship for her dual role as Caroline Wales and Tallulah Bankhead in Something Cloudy, Something Clear. Hoffens also worked behind the scenes as an assistant director, assistant stage manager, and props master.
Impressed by her work ethic and commitment to the craft, CCRI's Theatre Program Coordinator Ted Clement nominated Hoffens for the fellowship, where she will study alongside students from the University of Rhode Island and Rhode Island College. Her long-term goal is to work in television, but theater remains a passion because "that's where the roots are" for many budding television stars looking for their big break.
"I'm glad I got involved with theater," Hoffens said. "It creates a community of lifelong friendships."
Hoffens will be mentored during her fellowship by Sophia Blum, a stage and film actress, teaching artist for both The Gamm and Moses Brown School, and independent monologue coach.
"This is going to be a great learning experience," Hoffens said. "[Tavares] told me it'll be the best 10 months of my life."
Share on Social Media