CCRI announces $5 million partnership with Bally's to launch gaming-focused programming
CCRI announces $5 million partnership with Bally's to launch gaming-focused programming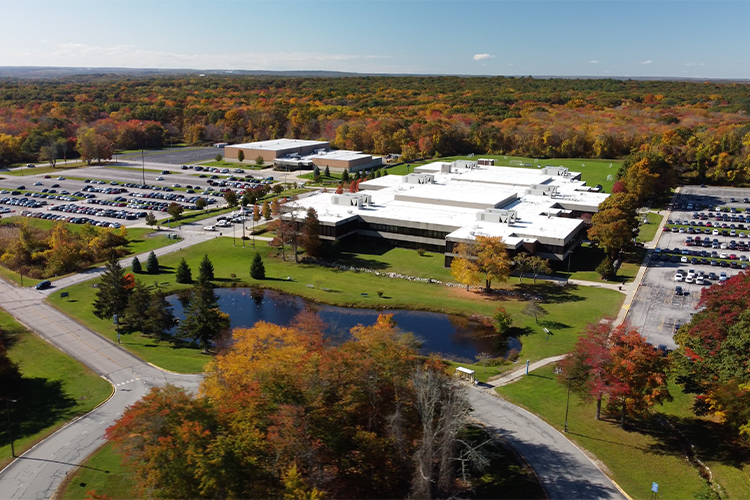 09/14/2023
The Community College of Rhode Island (CCRI) today joined Governor Dan McKee, Senate President Dominick Ruggerio, Majority Leader Christopher Blazejewski, and Bally's Corporation Chairman Soo Kim to announce a $5 million donation to CCRI to develop and launch new programming in the gaming, hospitality, and security industries and to support student scholarships.
The gift marks the largest in CCRI's nearly 60-year history and is among the largest gifts made to any community college this year. The announcement was made at the college's Flanagan Campus by CCRI's Interim President Dr. Rosemary Costigan, Ph.D., R.N., and former President Dr. Meghan Hughes.
Dr. Costigan said, "This remarkable gift recognizes the College's track record in expanding new programs and degree pathways for students. The initiative, developed in partnership with the Bally's and CCRI teams, will provide CCRI students new opportunities to learn and work as the best version of themselves. Our partnership brings attention to the unparalleled value of community colleges, their powerful role in the region's economy, and I am grateful for Bally's belief in us and our incredible students."
As a direct outcome of this landmark investment, CCRI is set to become the sole higher education institution in Rhode Island – and one of a few in New England – to offer students the unparalleled opportunity to obtain a certificate or associate degree rooted in a comprehensive, gaming-focused curriculum. This unique program will encompass traditional classroom learning, online courses, on-campus learning labs, and invaluable experiential opportunities at Bally's properties. The programs will span the spectrum of casino- and hospitality service-specific subjects, including dealer training, casino operations, cybersecurity, iGaming operations, culinary arts, hotel management, and slot technology.
Mr. Kim said, "It is an honor to partner with CCRI on such an exciting and important initiative. We are proud to play an integral part in offering higher education opportunities for Rhode Island's workforce, creating new jobs, and driving economic development. Rhode Island is our home and continued investment in its local communities and workforces will always be a top priority for us. While this donation is the latest milestone in our long-term partnership with CCRI, we look forward to supporting this program for many years to come, creating a legacy of economic opportunity."
"Bally's $5 million contribution to the CCRI Foundation marks an extraordinary moment in the college's history," said Dr. Meghan Hughes. "This partnership between CCRI and Bally's stands as a testament to the transformative power of education and industry collaboration. Through this initiative, Bally's is investing in community college students and their future success."
Governor McKee said, "This landmark partnership between Bally's and CCRI will provide important learning and training for our CCRI students, leading to new workforce opportunities. The generous gift provided by one Rhode Island-based company for the benefit of so many of our state's community college students is a powerful way to advance economic and social opportunity and teach meaningful, transferable workforce skills. I applaud Bally's for investing in our state's higher education system, and our students."
"This donation from Bally's Corporation will enable CCRI to train the workforce of tomorrow so that Rhode Island can be a leader in the growing industries of gaming, hospitality, and security," said Speaker K. Joseph Shekarchi (D-Dist. 23, Warwick). "Bally's is a tremendous corporate partner. It has already committed $100 million in building expansion at its Rhode Island sites, in addition to the tens of millions the corporation contributes to our state revenue annually."
President of the Senate Dominick J. Ruggerio said, "Bally's is a tremendous partner for Rhode Island, and CCRI is an invaluable resource for tens of thousands of Rhode Islanders. This historic donation and partnership will enable students to receive education and training in a wide range of opportunities in the hospitality industry, which will greatly benefit our continued economic and workforce development efforts. I want to thank Bally's for its ongoing investment in the future success of our state, and I want to thank CCRI and the CCRI Foundation for providing a gateway to opportunity for all Rhode Islanders."
CCRI will initially focus on working with faculty and staff to build out the course curriculum with a goal of having degree programs available by Fall 2024. Simultaneously, the college's Division of Workforce Partnerships will quickly develop and launch short-term credentials to upskill Bally's existing workforce and create a robust talent pipeline of new employees.
In addition to new certificate and degree program development, Bally's investment will provide scholarships to qualifying Rhode Islanders seeking a career in the growing gaming and hospitality industries, reflecting the company's continued commitment to creating opportunities for economic growth and development in the communities it serves. Additional details on this program, including scholarship opportunities, will be forthcoming.
Share on Social Media