Alumni Association elects new President, Chair of Alumni Diversity Council
Alumni Association elects new President, Chair of Alumni Diversity Council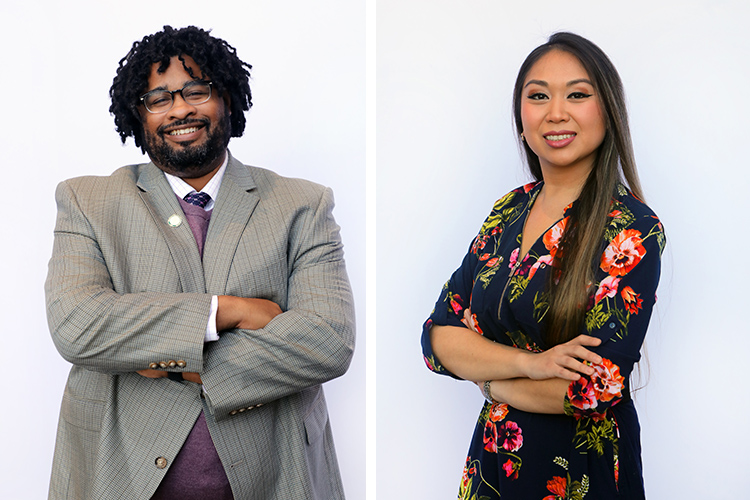 Jeffrey C. Wright Jr., left, and Malida Khim
09/11/2023
The college's Foundation Board and Alumni Association Board recently elected two new officers to key leadership positions on CCRI's Alumni Association; Jeffrey C. Wright Jr. is the new Alumni Association President and Malida Khim is the Alumni Diversity Council Chair.
Wright is the Assistant Principal at Providence Public Schools. He received his Associate Degree from CCRI in 2008. He is a proud alumnus of this institution and has served on the Alumni Association Assembly Board for the past four years. He served on both the Diversity and Scholarship sub-committees for the Association Board. Last fall, Jeffrey was inducted into the Society of Knights at CCRI for his commitment to education and community work in Rhode Island.

He obtained his Bachelor's Degree in History from Ashford University (now the University of Arizona Global Campus) and earned a Master of Education from Providence College. He is currently pursuing a Doctorate in Educational Leadership Program at Johnson and Wales University.

Wright resides in Woonsocket, RI, with his wife and two children. He is a passionate educator and community for more than 20 years. He is also an active NAACP Providence Branch member. He currently is the Vice Chair of the Education Committee and serves on the Black Giving Circle, a group of black leaders throughout Rhode Island who support local businesses through the Rhode Island Foundation.
Khim is the Impact Coordinator, CSR & Philanthropy at CVS Health. She graduated from CCRI in 2019 majoring in Business Administration and became a Society for Human Resources Management Certified Professional (SHRM-CP) in 2020. Khim also holds certification for Diversity, Equity, and Inclusion from Yale School of Management. Originally from California, but raised in Providence, RI, Khim currently resides in Cumberland.
She has also served as a Diversity and Inclusion Professionals (DAIP) board member for the past three years. Khim has been on the CCRI board since 2019 and was a founding member of the Alumni Association's DEI Committee. She actively participates in the board by raising funds, speaking on Alumni After Hours panels, and reviewing scholarship applications.
Khim credits CCRI with playing a critical part in her career and level of confidence throughout the years. She celebrates the institution's ease of access and support and wants to be a part of continuing to expand upon CCRI's reach and availability to current students at all stages of their lives.
Share on Social Media