Inaugural Delta Dental scholarship students honored at Dental Hygiene pinning ceremony
Inaugural Delta Dental scholarship students honored at Dental Hygiene pinning ceremony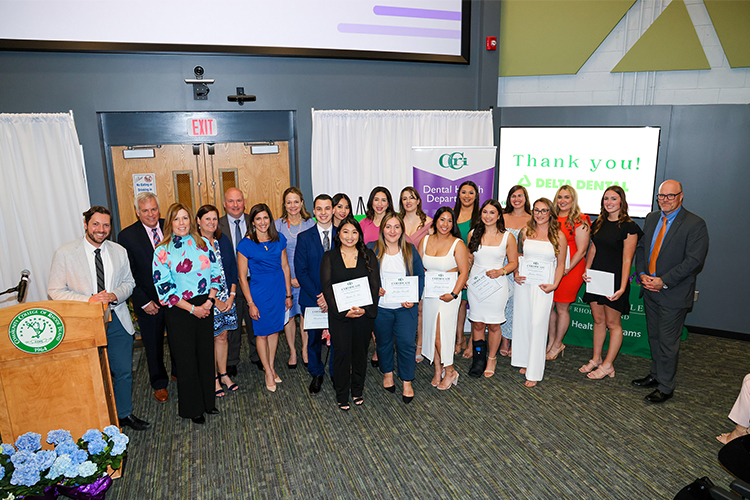 05/19/2023
The Community College of Rhode Island Dental Hygiene Program recognized its graduating class of future dental hygienists and assistants at a Pinning Ceremony on Monday, more than half of whom were recipients of the inaugural Delta Dental of Rhode Island Scholarship.
A three-year initiative launched this academic year to address an emerging nationwide shortage of professional dental hygienists, the Delta Dental of Rhode Island Scholarship program provides financial support to students in CCRI's Dental Hygiene Program who commit to working in Rhode Island for at least one year after graduation. Twelve of the 21 members of CCRI's graduating class this year were recipients of the scholarship.
"The future of Rhode Island's oral health sector relies on a continuous, collaborative effort to prepare the next generation of dental professionals to enter the workforce. With its fast-growing Dental Hygiene Program, CCRI has proven itself as an invaluable statewide leader in this work, and our team at Delta Dental of Rhode Island is proud to support them," said Joseph R. Perroni, president & CEO, Delta Dental of Rhode Island. "We congratulate each member of this year's graduating class and look forward to continuing to work with CCRI and other partners to ensure Rhode Islanders have affordable and equitable access to the industry's best educational resources."
The Delta Dental of Rhode Island Scholarship initiative is part of a partnership between Delta Dental and CCRI that dates back more than a decade. Delta Dental of Rhode Island recently provided funding to help CCRI renovate its on-campus Dental Hygiene Clinic with new, state-of-the-art equipment. Located on CCRI's Lincoln campus, the clinic serves as a hands-on training facility for CCRI students while also providing free oral health services for more than 1,000 Rhode Islanders every year.
"CCRI's Dental Hygiene program is considered one of the best in the region, producing high-quality graduates who are prepared to enter the workforce with the knowledge and skills that will serve their patients well. It is through Delta Dental's support that students have the opportunity to master their skills using the latest technology and equipment, which will set them apart when entering their professional careers,"said Meghan Hughes, president of the Community College of Rhode Island. "We are so grateful for our partnership with Delta Dental and for their incredible support of our students."
Through financial support, employee volunteerism, advocacy and more, Delta Dental of Rhode Island is committed to creating a meaningful, long-lasting, positive impact in the communities it serves. Central to this commitment is working alongside our partners and neighbors across the state's healthcare and nonprofit sectors to create more equitable access to high-quality dental care.
In 2022, Delta Dental of Rhode Island provided more than $1 million in grants and more than 1,400 hours of employee volunteer time to support more than 100 nonprofit organizations.
Delta Dental of Rhode Island is the state's leading dental insurer, providing access to affordable dental care for more than 625,000 members. Headquartered in Providence, Delta Dental of Rhode Island is committed to ensuring access to quality dental care for all Rhode Islanders. To learn more about Delta Dental of Rhode Island, visit www.deltadentalri.com.
Share on Social Media