Players address racial stereotypes in season-ending production of Yellowman
Players address racial stereotypes in season-ending production of Yellowman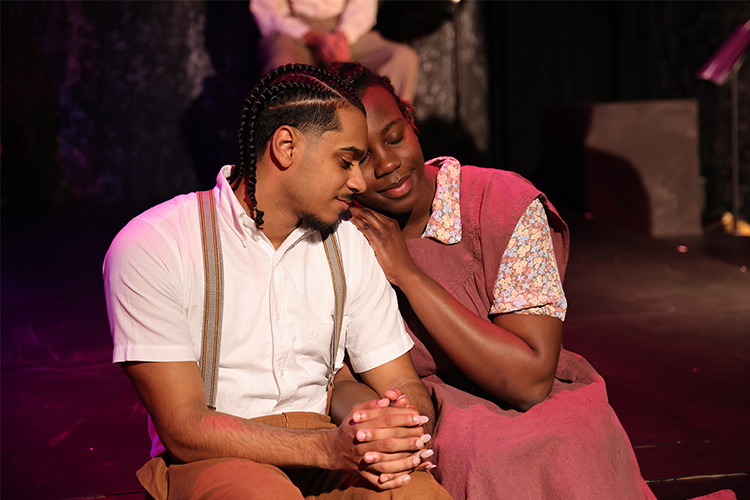 04/27/2023
The CCRI Players close out the Spring 2023 semester with a production of Yellowman, a 2002 Pulitzer Prize in Drama finalist written by actress, poet and playwright Dael Orlandersmith.
Yellowman premiers tonight at 7:30 at the Providence Campus Auditorium with additional shows Friday at 7:30, Saturday at 2 and 7:30 pm, and Sunday at 2. Tickets are available online or at the auditorium box office and are priced at $12 for general admission and $10 for students, employees, and seniors.
Directed by Aaron Andrade of Providence, RI – a Cape Verdean-American actor and acting coach making his CCRI directorial debut – Yellowman is a multi-character memory play about an African-American woman who dreams of life beyond the confines of her small-town Southern upbringing and the light-skinned man whose fate is tragically intertwined with hers. Set in 1960s South Carolina, the play explores the negative associations surrounding skin tone as well as the effect these racial stereotypes have on black women.
Yellowman stars CCRI students Jocelyn Tchety (Providence, RI), Brandon Soriano (Providence, RI), AnneLaurie JeanLouis (Fall River, MA), Tevin Lima (Pawtucket, RI), Yohanny Valdez (Central Falls, RI), and Cameron Maxwell (Warwick, RI).
Andrade studied Rhode Island College, receiving bachelor's degrees in Political Science and Theatre Performance and an MFA in Performance in Society: Using performance to promote social change. He teaches and directs theatrical productions at Providence College, Boston Casting, RIC, and Franklin School for the Performing arts, and is also a voiceover artist, having worked on commercials, animation, and more. Andrade also works in television with credits in Dexter and Defending Jacob in addition to film (Confess, Fletch, Being Dead) and national and local commercial credits.
"There are few things in this life as powerful as love. Love can build community. It can destroy it. It is my conjecture, and I believe as well as that of the play, that hate is born from love, or the absence of it," Andrade said. "I'm a light skinned African American, my mother is light, bright, and damn near white, while my father is not. This helped define me and my outlook, as it has for generations of African Americans.
"Whether we call it colorism or intra-racism, it's still the same. The absence of love, especially of self, causes hate. And that lack of Love has brought us to this place. The hurtful names we call each other, the terrible way we react to those who are different from our own 'kind,' is all in our heads – or, perhaps, our marrow. Human beings are much more similar than they are different. They can exchange blood, organs, and faces, but somehow we always seem to find the 'other,' or the threatening stranger, no matter how alike we seem."
Share on Social Media