CCRI to host its second annual Cybersecurity Night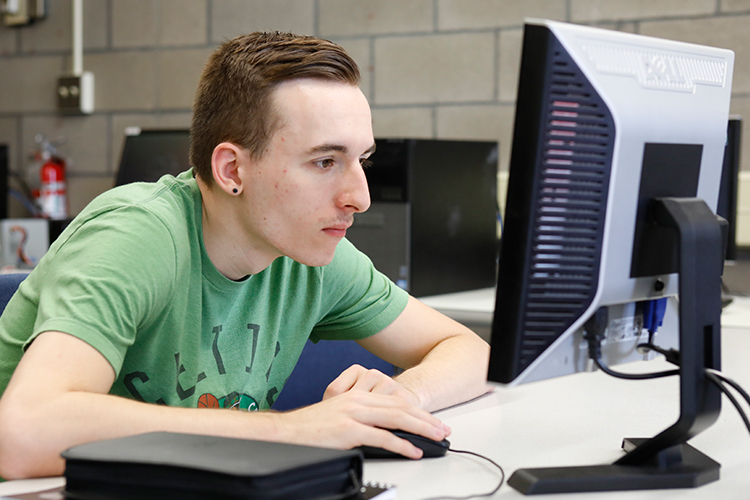 04/11/2023
The Community College of Rhode Island is hosting its second annual Cybersecurity Night on Tuesday, April 18 at its Warwick campus featuring a keynote address from Rhode Island State Senator and Chair of the Senate Finance Committee Louis DiPalma.
Hosted by the college's Computer Studies and Information Processing department, Cybersecurity Night is an opportunity for current and prospective students to learn about the college's Cybersecurity associate degree and Cyber Defense Path from current faculty members in addition to meeting representatives from industry partners and four-year universities. Members of the college's student-led Cybersecurity Club and Career Services department will also be in attendance.
"As cybercrimes and attacks become more common and sophisticated, cybersecurity has never been a more urgent concern," DiPalma said. "For individuals, institutions, and our economy, the vulnerabilities and risks are greater than ever. It is vital that we commit ourselves to a cybersecure future, and forums like Cybersecurity Night at CCRI play an essential role in our progress together. I want to thank CCRI for hosting this important event and look forward to a great discussion with students, faculty, and other key partners."
Other guests include:
Vic Fay-Wolfe, Undergraduate Chair of Computer Science and Co-Director of the Cybersecurity Program at the University of Rhode Island
Dr. Frank Tweedie, Dean of the College of Engineering and Design at Johnson & Wales University
Cassandra Johns, Director of Education and Career Pathways at (Southeastern New England Defense Industry Alliance) SENEDIA
Michael Beatty, NUWC PENTEST Team Lead (Naval Undersea Warfare Center) – responsible for planning, execution, and reporting of cyber tabletop exercises, penetration tests, and other cybersecurity test and evaluation events – presenting a brief entitled

"Understanding the Cyber Kill Chain: an Adversarial Perspective"

Kevin Crawford, CCRI Computer Studies Department Chair
CCRI's Cybersecurity associate degree program offers students the opportunity to acquire the skills needed to compete for jobs and prepare for a career in the fast-growing, high-demand Cybersecurity industry and offers industry professionals the credentials to update their skills and meet the demands of their employers. The Cyber Defense program provides the educational background and hands-on training necessary to prepare students in the cybersecurity defense sector and meets the National Security Agency (NSA) and Centers of Academic Excellence (CAE) core foundational content and standards.
DiPalma, who represents Rhode Island District 12 (Little Compton, Middletown, Newport, and Tiverton), earned his bachelor's degree in Computer Engineering from the University of Bridgeport and his master's in Computer Science from Brown University. A leading advocate for cyber defense at both the state and federal level, DiPalma is a Chief Engineer at Raytheon Technologies and has hosted an annual Cyber Hygiene Event for the past six years alongside former U.S. Congressman James Langevin.
Share on Social Media