Security
There is a simple test to determine if a web page is secure:

On a Microsoft Windows based system running Microsoft Internet Explorer
Click the right mouse button while the mouse pointer is positioned on a blank area of the web page
Select properties (A screen with information about that page will appear).
Click on certificates (if the page is not secure, a message will be displayed that no certificate exists, or else, information about the Secure Server Certificate will be displayed)
Looking for the lock at the bottom of your web browser is a good process to establish if a page is secure or not, this method will not work for particular categories of web pages, in particular web pages loaded into frames. The reason why the padlock doesn't appear is because the MyCCRI secure pages are framed inside frames that are not secure. Since the padlock only indicates the security of the outside frames, the padlock does not appear.
MyCCRI frames SSL pages inside non SSL frames in order to prevent the browser from popping up dialogue boxes that alert the user that SSL is enabled. These pop up dialogue boxes are a distraction for the majority of MyCCRI users
Why am I getting "Website Certified by an Unknown Authority" when using Firefox as my browser?
If you are getting the following error message while trying to access MyCCRI, you may have downloaded and installed add-ons from Firefox Add-ons.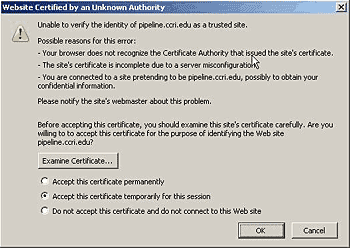 To disable scripts, check your system tray for the letter "S" . Right click on the letter and select Options and Disable.
You will need to restart Firefox for the changes to take effect.


This page developed and maintained by the Information Technology Department. Send comments and suggestions to helpdesk@ccri.edu .