William C. Johnson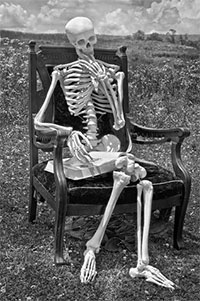 Professor
: (401) 851-1672
: Newport
: 129
Bio
Dr J. wasn't always Dr. J. He started out as Bill Johnson. He was born in Wakefield, RI so he qualifies as a local. He made it through grade 12 as one of the worst spellers the school ever graduated. He went to URI for a BS in Zoology and then to Oregon State University in Fisheries and Wildlife. He transferred to the Graduate School of Oceanography at URI where he earned his PhD. That was the most difficult intellectual undertaking of his life. He made it wonders will never cease!
Dr J. began teaching at CCRI in 1977 (he was only three at the time!) and was hired full time in 1989. He has taught Human Anatomy, Human Physiology, Invertebrate Zoology, and Limnology and Oceanography for CCRI. He has also been teaching inorganic chemistry courses at URI from 1980 (yes, he was 6 when he started there) until 2009. He started teaching human anatomy for URI in 2007 and continues to teach anatomy at URI.
Teaching is the highlight of his professional work. It is always such a trip when the lights come on for one of his students. He enjoys interacting with students and telling him one of his interesting stories after break.
WOW! There are things in Dr. J.s life besides teaching! He is married to a wonderful woman who is obviously blind to his faults well sometimes. He has two children and two stepchildren. They have left the nest whew! He shares his home with a Labrador Retriever (Pansy the Answer Dog) and she has him well trained. He loves to work in his yard on flower beds, stone walls, and the lawn. He has collected about 300 varieties of Rhododendrons and Azaleas as well as a number of companion plants.
Racing his cars at the racetrack is another hobby he loves. What a thrill! It is the most fun one can have with their clothes on without getting arrested. He always enjoys his time at the track and is happy to drive fast without crashing.
Click here for a fourteen minute video from Watkins Glen NY, 2014!
Office Hours
Days Times

Wednesday 12:30 – 3:30
Thursday 12:30 – 3:30
Learning Resources
Human Anatomy Syllabus:
FALL 2014
Human Anatomy – BIOL 1010-581
Human Anatomy – BIOL 1010-582
Human Anatomy – BIOL 1010-583
Human Anatomy – BIOL 1010-584
Human Anatomy – BIOL 1010-585

SPRING 2015
Human Anatomy – BIOL 1010-581
Human Anatomy – BIOL 1010-582
Human Anatomy – BIOL 1010-583
Human Anatomy – BIOL 1010-584
Human Anatomy – BIOL 1010-585
SUMMER 2015
Human Anatomy – BIOL 1010-151
Human Anatomy – BIOL 1010-153
Human Anatomy – BIOL 1010-581
Human Anatomy – BIOL 1010-583
Human Anatomy – BIOL 1010-584
Selected Publications
Additional Information (Links)
Lab Web Links