Students will demonstrate familiarity with the major concepts, theoretical perspectives, empirical findings, and historical trends in psychology.
Apply Today
News & Events
Spring Semester, 2021:
All classes for the spring begin on January 19. All Psychology courses for the spring will be online.
Most will be Asynchronous"Remote Asynchronous Learning" which means that you will not meet online but will turn in assignments according to the course syllabus provided by the instructor. Asynchronous learning includes any activities where students are participating at different days and times within a broader time frame – watching a video, reading materials, completing an assignment, contributing to a discussion or blog, or taking a quiz. Many elements of an online course are asynchronous and the reason many students take online classes is for that flexibility. There may be scheduled office hours or appointments made where students can meet with the instructor virtually.
There are some Hybrid – Synchronous with a 1 hour, 15-minute virtual Synchronous meeting once a week, which means that your class will meet virtually on the day and time specified at time of registration. The remainder of the time will be spent completing online assignments.
Please check your schedule closely to see which platform you have selected. If you select a Hybrid-Synchronous, you must be available to meet on the days and times specified.
Online Learning Requirements
For the latest resources & equipment required for online learning visit:
https://www.ccri.edu/it/cit/blackboard/computer-browser-plugin-requirements.html
https://www.ccri.edu/oes/learningremotely/
Psychology Textbook Policy:
Textbooks should not be purchased ahead of time for any Psychology courses. Texts are assigned for each course, but instructors will give directions on the first day the class meets regarding textbooks.
Psychology Updates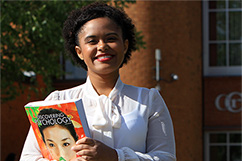 General Psychology -- is now a four (4) credit course. All on-campus PSYC 2010 courses will be a hybrid course with three (3) credit hours being face-to-face and one (1) credit hour online.
Theories of Personality - Have you taken General Psychology? Get a jump start on the fall by taking summer Psychology courses that require this prerequisite. We are running Developmental Psyc both sessions, Social Psyc session II, and Abnormal Psyc session II this summer.
Join the Psychology Club
The Psychology Club's mission is to promote interest in the field of psychology and to provide students with opportunities to hear speakers, take field trips, attend conferences, perform community service, and participate in informal social activities.
For more information: https://www.ccri.edu/psych/aboutclub.html