2012 Hall of Fame inductee - Vincent A. Cullen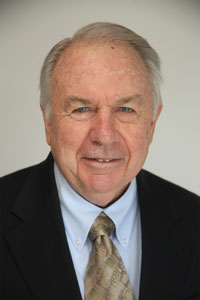 Hired as a mathematics professor in 1965, Vin Cullen had no idea that he would be the architect of the college's enormously successful athletic program, but that is exactly what happened. Asked to spearhead the fledgling program, Cullen assembled a powerhouse cast of coaches, planned the future field houses in both Warwick and Lincoln, and guided the men's basketball teams to unparalleled success.
In his 37 years as coach, he never missed a game, all the while continuing his teaching duties. When he retired as athletic director and basketball coach in 2002, Cullen had compiled a 711-270 record, good for 10th all-time among junior college coaches for wins. At the time of his retirement, he was the all-time winningest college basketball coach in New England. His teams earned 10 regional championships, were nationally ranked during 16 seasons, and achieved the No. 1 ranking and a national runner-up finish in 1991. This success earned Cullen 28 coach of the year awards, one national coach of the year and two national athletic director of the year honors.
Along with his place in the CCRI Hall of Fame, Cullen is a member of eight other halls of fame, including the NJCAA Coaches Hall of Fame, the NACDA Hall of Fame, the Rhode Island Heritage Hall of Fame and the NATYCAA Hall of Fame.
In 1986, the National Association of Collegiate Directors of Athletics selected Cullen to serve as one of five ambassadors at the Goodwill Games in Moscow, Russia. In 1987, he was selected by USA Basketball of Colorado Springs, Colo. to serve as an assistant coach of the East Team under Charles "Lefty" Driesell in the U.S. Olympic Festival, and in 1989, he was sent to the Bahamas to conduct basketball clinics there. In 2002, he was recognized as an Ambassador of Peace by the Institute for International Sport for his leadership role with the National Youth Sports Program in Rhode Island. Cullen was also instrumental in running broad-based community programs for 25 years at CCRI. Upon his retirement, the field house in Warwick was renamed in his honor.