Joseph J. Amante y Zapata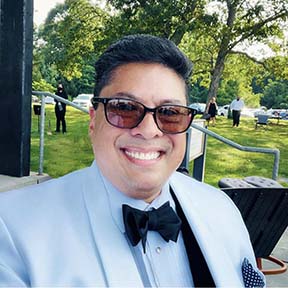 Professor
: Knight
: 3166
Office Hours
FALL 2021 TEACHING SCHEDULE
*email to schedule an appointment

MUSC 1060-001 Music After 1750 PDF
MUSC 1160-601 Introduction to Music online
MUSC 1165-001 History of Rock PDF
MUSC 1165-600 History of Rock online
MUSC 1220E-001 Chamber Singers
MUSC 1210E-001 Chorus

My email address at Roger Williams University is: [email protected] https://www.rwu.edu/academics/schools-and-colleges/fshae/faculty/joseph-amante
Bio
Dr. Joseph Amante y Zapata is professor of music at CCRI and as Director of Choral Activities he conducts both the CCRI Chamber Singers and Chorus. He is also the music director for the Roger Williams University Chorus as well as instructor of Latin and Caribbean music history.
"Most important to me, and to my students, is that they broaden their experience both within and outside of the classroom. I have taken the CCRI choirs to a choral competition at McGill University in Montreal, Canada, to Boston to participate in a choral festival alongside the Boston Pro Musica, and to New York City to participate in a community college festival at Carnegie Hall."

Dr. Amante has been an officer of the American Choral Directors Association for many years in the states California, Massachusetts and Rhode Island. He has been an accompanist for music instructors as well as a part-time keyboardist and vocal soloist at various churches throughout Rhode Island. Dr. Amante also music directs theater productions and has recently been a member of Contemporary Theater Company (Wakefield, RI). He is a violist with South County Chamber Orchestra, violist and assistant music director of Ocean State Pops Orchestra as well as a mandola player in L'Esperance Mandolin Ensemble.
Amante and his wife, Dr. Terry Deeney, a professor at URI, reside in South Kingstown, RI with their son and daughter.
Education
D.M.A. major in Choral Music (minor in Vocal Pedagogy) 2002

University of Southern California, Los Angeles, CA
Treatise: Sacred choral music in Colonial Mexico, 1650-1750: An Introduction
Awarded: Herb Alpert Scholarship for Emerging Young Artists

M.M. in Choral Conducting 1989

New England Conservatory of Music, Boston, MA
Classes
Choral ensembles, Sight Singing & Ear Training, Music History and History of Rock
Learning Resources
Academic Focus
As a professor of music, I believe that every student can benefit from music instruction regardless of socio-economic status, physical or intellectual ability. That instruction should be well prepared and taught with passion to help each student realize their own individual potential and abilities.
Music is for everyone and for any age. I have and continue to seek out opportunities to unite with other musical organizations outside of school.
One of my interests is the choral music of the Viceroyalty of New Spain and I have transcribed three Salve Reginas and three Magnificats as well as smaller works. If you are interested in acquiring some of this work for performance please email me directly.
Magnificat for 3 four-part choirs, Bernardo de Peralta Escudero (d. 1617) in publication
Magnificat primi toni, Francisco Lopez Capillas (1614-1674)
Magnificat secundi toni, Hernando Franco (1532-1585)
Salve Regina a5, Pedro Bermudez (1558-1605)
Salve Regina a4 de Contra altos, Pedro Bermudez (1558-1605)
Salve Regina a4, Pedro Bermudez (1558-1605) in publication
Former choruses directed-
Additional Information (Links)