Contact Information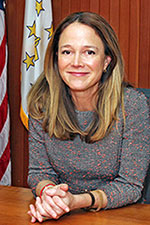 Dr. Meghan Hughes
President

Office:
Knight Campus
Room 3328
[campus map]
400 East Ave.
Warwick, RI 02886

Email: president@ccri.edu
Tel: 401-825-2188
Fax: 401-825-2166
Social media
President Di Pasquale highlights CCRI's support for veterans
As more military personnel return home, community colleges across the United States are seeing significant increases in veteran population. Here at the Community College of Rhode Island, nearly 800 veterans enrolled in the fall semester, and we could see that number top 1,000 in the near future. It's critical that we provide the services and assistance that those who served our country need.
Last year, President Obama issued his "Eight Keys to Student Veterans Success," an initiative for institutions of higher education that includes supporting and providing space for the Student Veterans Organization operations; empowering the veterans coordinator and ensuring he or she is a touch point for military and veteran students; coordinating and centralizing veterans services via an SVO office; providing training for faculty and staff on how to assist veterans; and maintaining open channels of communication among the SVO, veterans coordinator and the institution's leadership.
At CCRI, we have opened the Military and Veterans Student Office, staffed entirely by student veterans through a variety of programs, including the VA Work Study program, AmeriCorps Scholarships for Service and The Mission Continues Fellowship program. The MVSO is overseen by the veterans coordinator and provides the guidance necessary to successfully navigate college life and transition back into a learning environment. Veterans bring with them unique life experiences, and faculty and staff should be aware of this resource and direct their military students to the MVSO for support. There are offices on all four of our campuses and any questions can be directed to Veterans@ccri.edu.
As the institution of higher education with the most veterans in Rhode Island, CCRI is committed to being a leader in veteran support services. Please join me in welcoming and supporting our veterans.

This page developed and maintained by Office of the President. Send comments and suggestions to marketing@ccri.edu .