Employee of the Month Program
Contact Information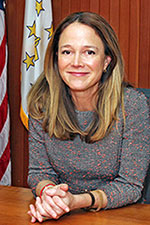 Dr. Meghan Hughes
President

Office:
Knight Campus
Room 3328
[campus map]
400 East Ave.
Warwick, RI 02886

Email: president@ccri.edu
Tel: 401-825-2188
Fax: 401-825-2166
Social media
President Di Pasquale announces kickoff of
'Employee of the Month' program
As the Community College of Rhode Island enters its 51st year, we reflect not only on the successes of our past, present and future students, but on those who directly or indirectly guide, teach and encourage them. CCRI, though large, represents members of a small, tight-knit community, and we'd like to shine a light on some of the folks who make it so special.
All faculty and staff are eligible for nomination. An Employee of the Month Committee will review nominations and select one winner during the months of February, March, April, September, October, and November. Employees can be nominated by any other CCRI employee, and nominations will be kept on file for consideration until the end of the second calendar year.
Those wishing to nominate colleagues who have impressed them are asked to complete the nomination form here. We look forward to this additional chance to recognize exemplary co-workers whose work performance contributes positively to the CCRI community.

This page developed and maintained by Office of the President. Send comments and suggestions to marketing@ccri.edu .