Remote Learning Tips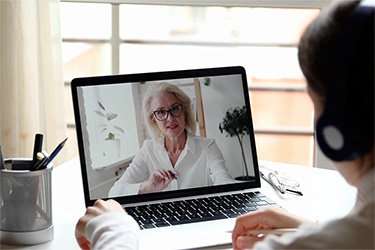 Learning in both a physical classroom and virtual online classroom have very similar recipes for success. However, taking classes within a virtual environment comes with many benefits as well as its own set of challenges.
Below are 5 tips that will help you succeed while learning remotely at CCRI.
---
Make sure your computer gear is up to snuff

It might seem like common sense, but you don't want to begin an online course just to find out that your computer hardware is not working correctly. Whether you're connecting from a desktop, laptop or handheld device, be sure you have a solid internet connection.
With many courses leveraging videos to assist with the learning process, you'll want to ensure your hardware can handle the demands. And with online courses often moving at a quicker pace than previous educational settings, you don't want to be well into your course when you have to deal with technical issues that are not often seen as a sufficient reason for submitting work late. Be sure to review the technology requirements for Blackboard at CCRI.

Get to know Blackboard now

Blackboard is the learning management system that CCRI uses for online instruction and communication. Students can access course materials their professors make available and may participate in class discussions online.  We've got you covered with everything you need to know about Blackboard, including video tutorials. This handy guide can also be useful as you continue to learn everything Blackboard has to offer.

Shhh… Find a quiet place to take your classes

We all remember the BBC interview with the dad and his adorable children. Distractions aren't ideal for TV interviews and they're definitely not good when you're taking classes! Make sure you have space that is free from distractions or interruptions. When possible, avoid cell phones, TV, and interruptions from others at home. If that space is not available at home, consider a local library or other quiet space that also offers a strong Wi-Fi network.

Find and use school resources frequently

CCRI has a wealth of online resources available that you can use as much as you need. For example, you can get virtual and online assistance at the Student Success Center, Writing Center, and Advising and Counseling. Additionally, the Library has a huge amount of information and resources available online along with helpful librarians to answer your questions.

Stay organized, keep a schedule & stay in touch

Online courses are usually taught at a quicker pace than conventional in-classroom learning environments, so it's important that you keep your assignment due dates and other various tasks organized and "mapped out" ahead of time. Your professors will be contacting you via email to let you know how they will be conducting their instruction. Remember, it is your responsibility to participate in the distance instruction and complete assignments, exams and other requirements to receive credit for courses. Pay careful attention to how your professor asks you to accomplish this.
One final reminder
Official communication from the college is done through your CCRI email and posted on ccri.edu. Please check your CCRI email and our COVID-19 website daily for the latest information and news on the COVID-19 pandemic and how it impacts CCRI. Please send your feedback and questions to [email protected].  We are reviewing and responding to questions as quickly as possible.