Course Photos - How to Submit a Photo
Course Photos - How to Submit a Photo
Students have the capability of adding a photo to their MyCCRI course. Photos or graphics must be in either .jpg or .gif format in order to be viewable on the web. Photos will be available only after your instructor okays it.
How to Submit a Photo:
Instructions and Screenshots
Step 1
Log in to your MyCCRI account and click on the myCourseTools tab. Then click on the link to the course you wish to work in. Each course has its own set of Course Tools.
Step 2
Click on the green Photos link under Course Tools in your course.
Step 3
Click on the Browse button to locate the photo file you want to use.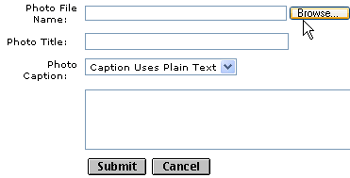 Step 4
Select the photo you want to use by clicking on it and then selecting the Open button. Remember that the file must be a .jpg or .gif file.
Step 5
Type in the title of the photo and a brief explanation. Then click on the grey Submit button.
Step 6
Click on the grey OK button to submit your photo to your instructor for approval. Once your teacher has approved your photo, you will see it displayed under the green Photos course link.

This page developed and maintained by the Information Technology Department. Send comments and suggestions to helpdesk@ccri.edu .