Internet Browsers
How can I change the text size in my browser?
If the text-size in your browser is changed from the default setting to a smaller setting, you may not be able to read some of the text. To change it back, in Internet Explorer, click on View in the menu bar, select Text Size and then select Medium.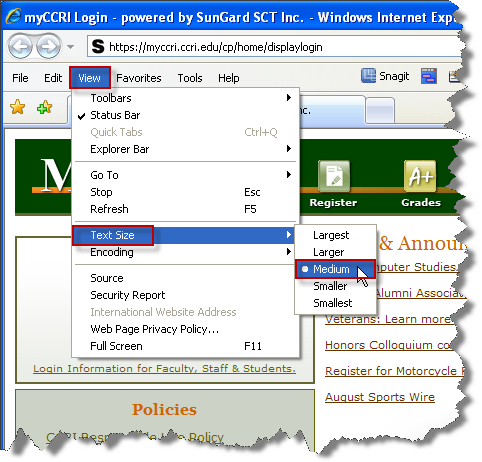 It has also been found that if you use both Internet Explorer for a browser and Eudora for mail, Internet Explorer may default to a "smaller" font size every time you open the browser. The instructions outlined below will set Internet Explorer's default text size to "medium" or "larger" every time.
How can I change the screen resolution on my computer?
Screen Resolution: we recommend that you use is 1680x1050.  If you are using a Windows-compatible PC, right click in a blank area of your Desktop and choose Properties, next select Display, then Settings. In the middle of the dialogue box, you will see a slider that allows you to change your monitor resolution.
If you are using a Macintosh running an older OS, use your monitor Control Panel to change resolutions. Macintosh computers running OS X must use the new System Preferences application to change monitor resolution.
Does MyCCRI require special browser settings?
Yes, there are recommended settings that will improve your MyCCRI connection.
Open Internet Explorer
Go to Tools
Click on Internet Options
Click on the Advanced tab
Under the Browser section:
Check Disable script debugging
Uncheck display a notification about every error
Under the Security section:
Uncheck Check for server certificate revocation
Uncheck Do not save encrypted pages to disk
Make sure that Cookies are enabled.
How do I enable cookies and JavaScript in Internet Explorer?
To enable and JavaScript, follow these steps:
Select Internet Options from the Tools menu. The Internet Options dialog box opens.
Click the Security tab.
Locate the Custom area of the Security tab, and click the Custom Level button. The Security Settings dialog box opens.
Scroll down to the Scripting section of the Settings window. To access the Campus MyCCRI system, your browser must support JavaScript and Java. You must select the Enable radio button under Active Scripting.
Click OK to close the Security Settings dialog box and to save your changes.
Click OK to close the Internet Options dialog box.
To enable cookies:
Select Internet Options from the Tools menu. The Internet Options dialog box opens.
Click the Privacy tab.
Click on the Advanced button located in the middle of the dialog box
In the Advance Privacy Settings dialog box, make sure that the circle in front of the following options is selected:

Override automatic cookie handling
First-part cookies - accept
Third party cookies - accept

Make sure that there is a checkmark in the box in front of Always allow session cookies
Click OK to save settings
Click OK to close the Advanced Privacy Settings dialog box and Internet Options
How do I enable cookies and JavaScript in Firefox browsers on Windows and a MAC?

By default, Firefox enables the use of JavaScript and requires no additional installation.
Note: To allow and block JavaScript on certain domains you can install privacy extensions such as:
NoScript:  Allows JavaScript and other content to run only on websites of your choice.
Ghostery: Allows you to block scripts from companies that you don't trust.
Cookies are enabled by default in Firefox.
I have MAC OS do I need to update my software?
Yes. Periodically, Apple releases updates to your computer's software. Because some updates are prerequisites for others, you may need to use Software Update more than once to get all available updates.
To activate and enable Java in Safari:
Select Safari from the Apple/System bar at the top of the screen.
From the drop-down menu, select Preferences.
Select the Security icon/tab at the top of the window.
Check the Enable JavaScript checkbox under the Web content category.
Close the dialog box to save your changes.
Finally, refresh your browser.
To enable cookies in Safari
Click on the Safari-menu in Safari
Click on the Preferences... item in the menu - a new window opens
Click on the Security icon near the top of the window
Under Accept Cookies the Always or Only from sites you navigate to must be selected
Save changes by clicking Ok and go to one of the configuration pages again

This page developed and maintained by the Information Technology Department. Send comments and suggestions to helpdesk@ccri.edu .