Accessing a Group once you are a member
Accessing a Group once you are a member
Accessing a MyCCRI Group
Instructions and Screenshots
Step 1
Log in to your MyCCRI account.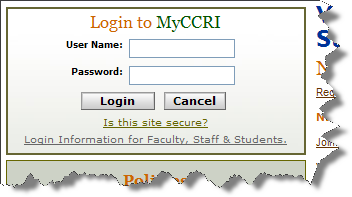 Step 2
Click on the groups icon.

Step 3
Under the My Groups section, you should see a link to your group with an empty box next to it. Click on this link to open to your group space.
(NOTE: If the group you are joining is a restricted group you will have to wait for the group leader to authorize you, which may take a little while depending on how often they log in to check submissions. If you don't see the link to your group, you can send an e-mail to the group leader to make sure he/she got your submission.)
Step 4
You will see the Message Board topics listed. To read a posting, just click on the link. To reply to the posting, click on the link that says Post a message. To add your own topic to the Message Board, click on the link that says Post a Topic.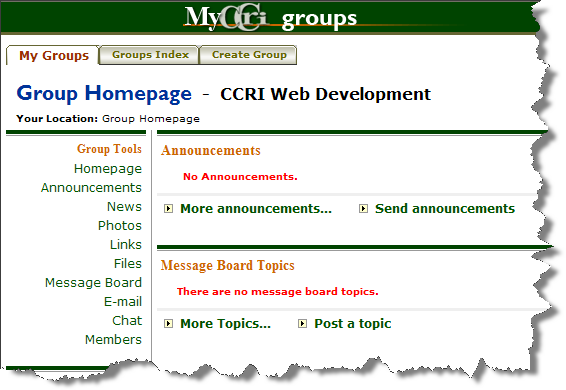 To access any of the other tools listed on the left, just click on them.

This page developed and maintained by the Information Technology Department. Send comments and suggestions to helpdesk@ccri.edu .