2013
Fall Semester
December

Professor Thomas F. Morrissey recently had a review of his artwork in Sculpture Magazine. Morrissey's installation brought views abruptly into the challenging conceptual terrain of statement art. [Learn more]
The CCRI Art Department Presents..... Fine Art Seminar Student Exhibition located in the Flanagan Campus Art Gallery.  The artwork exhibit runs from Wed. Dec. 2 to Monday, Dec. 9.   The Opening Reception is Wednesday, Dec. 4 from 2 to 6 p.m. [Learn more]
November

Newsletter Fall 2013, ART-I-FACTS - The Community College of Rhode Island Department of Art has published the Fall 2013 issue of ART-I-FACTS, its department newsletter, featuring news and updates about students, alumni and faculty. [Read more]
Two CCRI Art Students Win Logo Contest - The Rhode Island Board of Education selected two CCRI art students' design to represent it in its new, official logo after the students entered the selection into a contest with other schools.  [Learn more]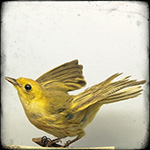 Diana Brennan uses modern photography and her background in environmental science to translate natural histories into serene artwork in her current art exhibit located in the Flanagan Campus Art Gallery.  The exhibit runs from Tues. Nov. 5 to Friday, Nov. 25.   The Opening Reception was Thursday,  Nov. 7 from 4 to 6 p.m.  [Learn More]
October

Professor Thomas F. Morrissey's "Ideological Fixation: More of the Same" furnishes selected "snippets" or extrapolations into his long and varied career, depicting selections from the many visual "hats" he has worn throughout his teaching career and as an energetic, working visual artist.
[Learn more]
September

Professor Cynthia Wheelock Smith's sabbatical exhibition, Recollections , explores human connections to the forces and rhythms of nature and draws inspiration from the art, architecture, and performances of Native peoples of the Americas.
[Learn more]

CCRI Art Professor Thomas F. Morrissey had a major retrospective exhibition of selected work gathered from various sources at the University of Rhode Island Feinstein Campus Gallery, 80 Washington St., Providence. A reception was held during Gallery Night in the city.
[Learn more]
Spring Semester
May

Newsletter Spring 2013, ART-I-FACTS: The Community College of Rhode Island Department of Art has published the Spring 2013 issue of ART-I-FACTS, its department newsletter, featuring news and updates about students, alumni and faculty. [Read more]
Art Students at the Flanagan Campus invite you to their annual art show, located in the Art Gallery, from May 7 to May 10, 2013. Opening Reception: Wednesday, May 8, from 4-6 p.m. [Learn more]
April
Fine Art Seminar Students at the Flanagan Campus invite you to their 
annual art show located in the Art Gallery.  Wednesday,  April 24 through Tuesday April 30, 2013. Opening Reception: Thursday, April 24, 5-7 p.m. [Learn more]
The Community College of Knight Campus Art Club presents:
Michael Lupa, Resident Artist & Foundry Coordinator at Liberty Arts Center, NC. Open to the general public. Please join us for his Demonstration, Lecture and Slide Presentation. [Learn more]
March
Gyre:  works by Yvonne Leonard at the Flanagan Campus Art Gallery  features an exhibition of drawings and prints including intaglio and relief. Friday March 22 through Friday April 19, 2013. Opening Reception: Thursday, March 28, 6-8 pm. [Learn more]
February
The Community College of Rhode Island Art Department will host the CCRI Ceramics Invitational, featuring an exhibition by 21 artists and a talk by two leaders in the field. The exhibition will run from Feb. 27 to March 29, with an opening reception 4 to 7 p.m. on Tuesday, March 5, in the gallery. Artists' talk will be at 5 p.m., room 4090 on 4th floor.  [Learn more]
The Flanagan Campus Art Gallery is featuring
the Annual Faculty Exhibition which runs from February 22 through March 15.  A reception will be held from 4 to 6 p.m. on Monday, February 25, at the gallery.  [Learn more]
January

The Knight Campus Art Gallery will present "Kyle Hittmeier: Detritus,"
from Jan. 24 to Feb. 22.  A reception with the artist will be held from 4 to 7 p.m. on Tuesday, Jan. 29, at the gallery.  [Learn more]
Flanagan Campus Art Gallery is featuring 
"Hidden Material," a joint exhibition by Claudine Metrick and Hayley Perry which runs through Feb. 15. [Learn more]

RISD Museum Free - The RISD Museum of Art, a world of ideas and expression is now all yours. The CCRI Art Department is proud to announce free membership to the RISD Museum of Art for ALL Community College of Rhode Island students, faculty and staff! [Read more]

CCRI Offers New Art Courses - The Department of Art is happy to announce the addition of four new courses that will be available during the spring 2012 semester. They are: 4D-Design, Video Art, Art History: Modern through Contemporary, and Mixed-Media Printmaking. [Learn more]

This page developed and maintained by Department of Art. Send comments and suggestions to enamaka@ccri.edu.